quality
job. Load bay is hacked above the fuel tank for an access hole to pump which in itself isnt too much of a problem, but then they went and "sealed" it with what looks like bearing grease. Which, as you can imagine, is pretty crap and sealing, particularly when the load floor isnt flat but the blanking plate is. Did you have to do the Camel cut on yours to do the 33's? And what lift?
So in the interests of entertainment and for those playing at home that are brave [pronounced stu-pid] enough like me to think one of these are a good idea, these are the following things that are/were wrong with it that im slowly sorting through. To be fair, 20% of the problems are shitty engineering [seriously, captive nuts! Fucking hell use them like the rest of the world], 30% terrible wiring ex-factory [lol youll see why lower down], 20% "professionals" that have worked on them and 30% dodgy tight ass owners.
-Indicators wont self cancel, assuming broken inside steering boss section. Seriously annoys me when RWC guys pick on this because its not exactly a safety issue but I wont go off on a tangent here. Dash lights for indicators wont light up on dash, assuming problem is related but again doesnt really bother me. Rest of warning lights work though so its not a cluster issue
-Sticky drivers side door handles; RHR requires a good yank on the handle, drivers door needs a bit of a jiggle with the key while pulling on the handle. Quick search so far and ive found handles for sale, latches for sale, and springs for sale. Apparently the fix is adjustment of the handle to latch rods which is relatively easy, however if theyve been left for too long they can stretch the spring in the latch. Replacements are readily available and cheap. Its doesnt look like too hard of a job but in best British Engineering practice requires half the fucking door to be pulled to bits [window frame removed etc].
-Drivers side rear door central locking solenoid not working; same shit on 99.99995% of all 80s and 90s Euro stuff. Just going to replace it with a generic slave from Jaycar.
-Washer bottle leaks like a sieve and empties its contents out all over floor. Cant see where the leaks origin is from, will need to remove and inspect. Appears to be in pretty decent shape/not brittle so hoping its just an o ring to the washer motors thats causing it. New replacements are available but I can think of better things to spend $80 on.
-Wiring fault on positive terminal; it appears there has been a short of sorts as the insulation is very burnt/brittle around the terminal. Had a look and traced the wire back and found a few...er interesting things [the sorts of things you dont find on Japanese or Australian cars unless someone has butchered it]. The larger gauge wire appears too long and the way its joined to the smaller gauge wires...and apparently...this is standard!!! Taped the crap out of the junction, will heat shrink over the top of it later. Going to get the boys at work to shorten the rest of the wire and crimp a proper connector on the end while they are at it.
-Centre console lid broken and some parts missing from the rear of the console. The lid is easy enough to fix, hinges are stuffed and top of lid is cracked assuming from people leaning on the lid getting in and out. Few other missing random pieces inside like the drivers door pocket and head unit, couple of random cracked plastics, ashtray from rear of console
-Missing antenna on front guard, second handy or plain old universal will fit the bill on this.
-Washer jet missing on rear of car for rear window. Either this thing has been resprayed and people forgot to reinstall parts, it fell off in a carwash [its a Land Rover so bits falling off are likely] or the detailers destroyed it
-Heater kept blowing fuses; Apparently fan failure is common and would require dash out but ended up working out the previous twit had a 10a fuse in a 20a hole
-Oil leaks. Oil leaks EVERYWHERE. Rocker covers require a bit of dismantling to get to but need doesnt look any harder than, say spark plugs on a Magna. Leak in oil filter housing area is from oil pressure switch. Sump doesnt look like its leaking but the gasket is dirt cheap and access is good so I might do it for insurance.
-Engine runs beautifully on gas, wont run at all on fuel. Looks to possibly be fuel pump issue. Got the pump and carrier out last night and disassembled. Apparently VN in tank pump is the go. Check out the awesome install by gas mob.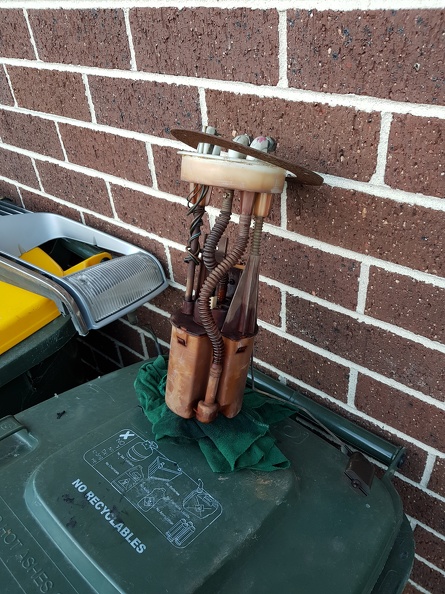 -While on topic of
awesome quality
gas install, one of the AFM wires needs to be cut and run elsewhere. So instead of actually pulling the pin from plug, removing old wire, recrimping new one in, lets just cut it as close to the plug as possible and do a shit job crimping the new one in. Seriously, cunts are fucking lazy. If there is enough length left in the new wire im going to try and repin it otherwise itll be a cut/solder/heatshrink job.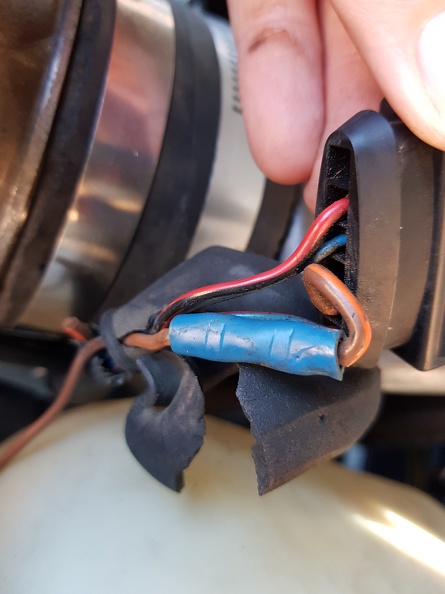 -Temp sender wire to AC fans was routed incorrectly, looked to be under tension. Turns out the wiring to compressor and to the drier was routed wrong as well. Unplugged, retaped, re-ran. Fixed.
-On topic of air con drier, had a steering knock over certain bumps that could be felt violently through steering wheel and had me scratching my head. I *think* ive fixed it - the foam around air con drier had fallen to bits allowing the aircon drier to slip through its bracket and basically bounce on the steering shaft. Piece of silicon hose around the drier and reinstalled and the drier stays where its meant to now. Will need to drive to confirm knock is gone but i suspect it is.
-Engine temp seems to fluctuate; sits on about a quarter through traffic and half way on the freeway. I know the standard gauges are supposedly stuffed in terms of accuracy but the fluctuation is unsual; suspected thermostat being flogged. No, its not a headgasket, chillout.
Cracking along, hopefully ready for road worthy next week.
N-