If purchasing one is a poor decision, then buying a second is full blown lunacy.
No, the white one is not dead yet, but it IS on borrowed time. Have been umming and ahhing about what to do with it and tried working out a plan of attack with the nopics. What it came down to was this - I havent really spent any money on it besides purchase and getting it through rwc, engine is ailing but it still works and will still function fine as a daily/kidlet hauler until the rego runs out next year. The problem is going forward - rebuilding or replacing the engine would be a waste of time and money given the lack of range with lpg/petrol will still be a problem, especially with the dwindling availability of LPG. Running it on straight petrol would not be an option with the sort of k's we are doing in it - aint nothing in this world that drinks like a Rover V8, except for maybe my alchoholic uncle. Doing an engine conversion is too many headfucks and too many dollarydoos to get right and I dont exactly want to break down in the middle of nowhere because of a conversion piece not being up to it.
So a plan is formed to look for a D1 200tdi or 300tdi with all the good stuff [suspension, bigger tyres, bull bar etc] done to it with a budget of approx 5 to 7k which should buy a good one. Preferred a 200tdi because they are simpler and seem to have less shit go wrong with them than the head and timing belt eating 300tdis and there is actually fuck all power/torque difference between them anyway.
On Friday, that plan [which lasted all 4 days] went out the fucking window. Was trawling land rover forums on the Monday and spotted a pretty badly written ad that just said 92 Discovery, 0 replies after 2 weeks. Figured it was a Petrol V8 that are a dime a dozen and that no one wanted, and almost closed the tab. Instead, decided to open it, only to find out it was actually a 200TDI manual, with snorkel/cargo barrier/prettyshitbullbar/dual battery setup/cb [all stuff i wanted] that had been parked up because the heater fan didnt work and it was down on power. It now didnt run because batteries were dead and hadnt run for a few years.
This is exactly what my Mrs and I agreed on should replace the white one
Behold, one shitboxen in all its greeny glory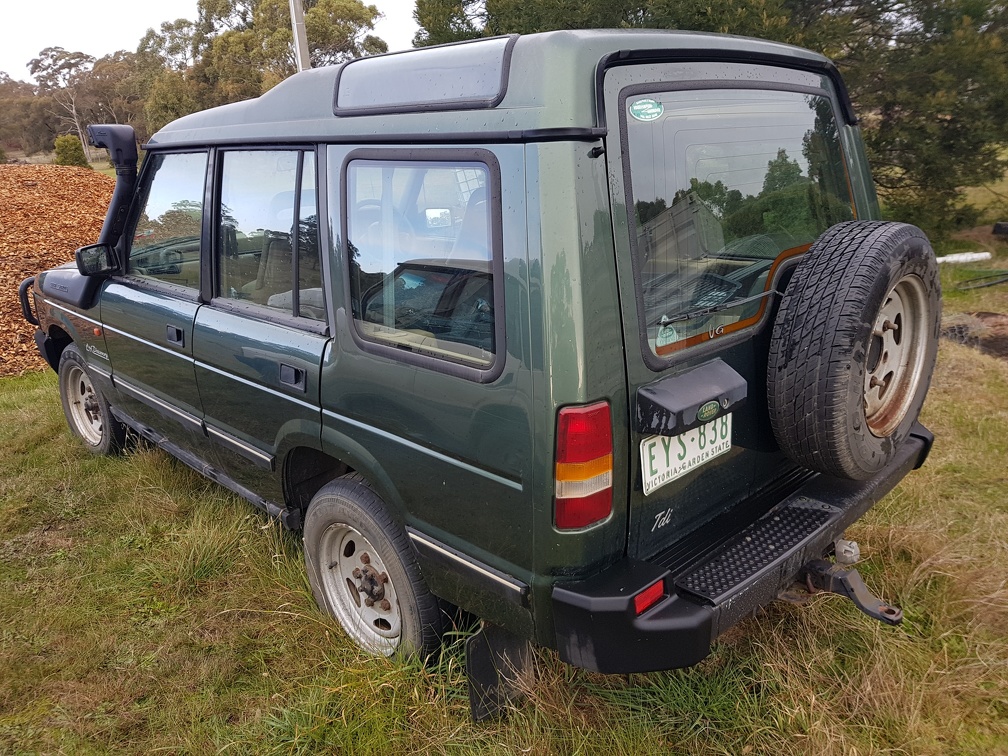 Its actually fucking straight besides one rear quarter which has a scrape in it that will hopefully tap out. Paint on roof and bonnet are rooted, little bit of rust starting in the cargo area but other than that it looks the goods. Interior is better than mine and will clean up better [and mines already decent on that score] so at this point, its looking pretty fucking good for the 700 smackers hes asking.
Took a spare battery with me to try and get it fired up only to find out the Commo battery i brought with me had the terminals round wrong way. Stole the battery out of mine and two cranks and 9 of victorias nastiest spider attacks later the bastard thing fired up in a blackish smoke show. Settled down to idle and actually sounded quiet, winrar. Reason for loss of power is pretty fucking obvious after all of 30sec [and i dont even know anything about diesels]. Apparently the intercooler piping is known to collapse and split on these things. The amount of duct tape and electrical tape being used in an attempt to hold all-teh-boosts into the plumbing was impressive. Theres your problem sir, and hopefully he hasnt fucking melted it with high EGTs due to the poor thing not getting air.
Angry 200tdi lump
Ugly bullbar which will hopefully get replaced by a proper ARB bar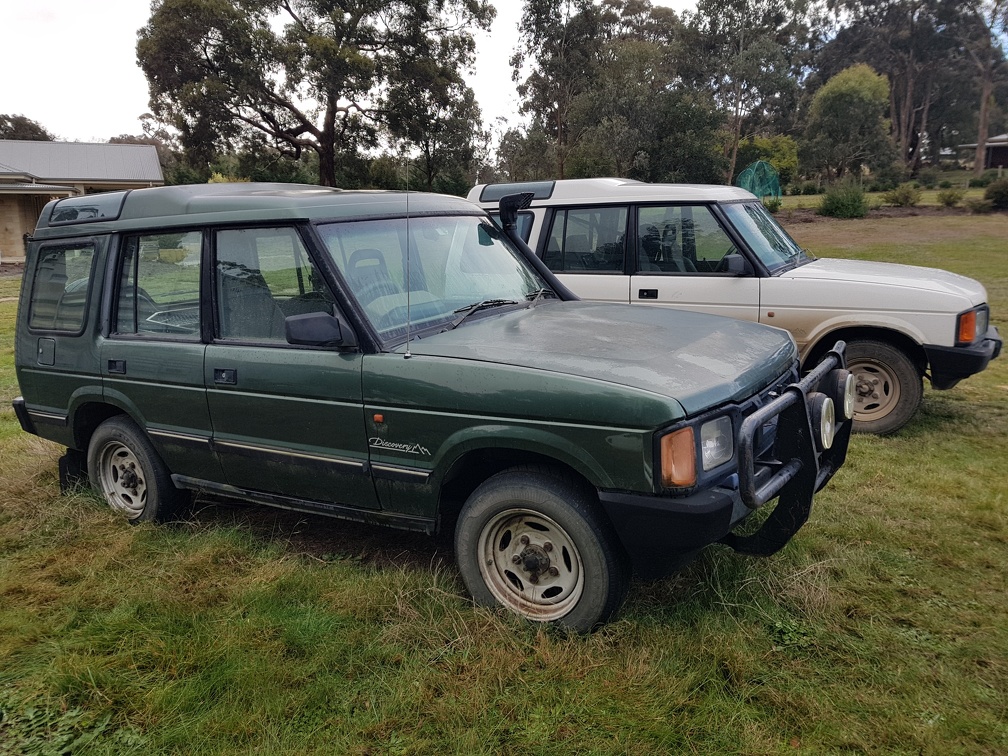 Agreed on 650, going to retrieve it on Friday.
Plan of attack:
-White shitboxen still runs, and is rego'd till next year. This gives me until Apr-19 to sort this nugget out
-Need to do a leak down test and get a feel of what sort of shape the bottom end is in, hopefully no need for rebuild [im in two minds about doing this anyway]
-Redo suspension - 2" lift, redo bushes, steering dampener etc
-Respray bonnet and roof
-245/75/R16s for that slight lift feeling, hopefully get away without needing to trim the arch
-ARB front bar, the PIAA foggies i bought and a set of driving lights of some description
-Add trutrac to rear diff and maxidrive axles sometime down the track
Engine wise, plan is some form of turbina upgrade. Standard turbo is T25 flanged, if i had to guess id say an SR20 one would be too big to bolt on and fucked if i know how people determine turbo sizing for these things. Do not want lag - the MU i had was a punchy SOB but if you got your take off wrong, it bogged badly until boost came around so pretty keen to avoid that. Been looking at VGT stuff - possibly 4JJ1 Rodeo or the Hilux VGT, a mate is trying to convince me to go compound setup. Rest is turn pump up/exhaust/intercooler upgrades.
Heeeeere we go.
N-