I purchased this 2003 996 cup in April 2018 after a bit of a search. I sold my 996 GT3 road car in 2017 after the rise in value made it uncomfortable to be throwing it about on track with concrete close by. Next, I decided to try a dual purpose daily/track car with a Mustang GT. Half way through that build I lost confidence when a wheel hub began to come loose after 4000kms (nothing to do with mods). Fordís response was to deny warranty due to modifications which consisted only of a factory ford track suspension and some camber plates. When tracking that car in the 2017 Adelaide Motorsport Festival, I had my arse handed to me by a bunch of Porsche Motorsport cars. I concluded that a dual duty car was too much of a compromise and so it was finally time to scratch the itch for a real race car.
I specifically wanted a 996 cup, which made the search difficult as they are a lot thinner on the ground than 997 (approx 700 996 built vs 2500+ 997). The 996 comes with factory ABS and h-pattern gearbox, both of which were essential to me. The 997 hollinger maintenance scares me a bit and aftermarket ABS is about 20 grand, not something Iíd be keen to peruse. All in all, the 996 cup is remarkably similar to the road going version, just more hardcore in every area. This appealed to me as I was already very familiar with the 996 platform. The biggest difference by far between the two cars is the slicks.
I wanted something with a bit of race history and ended up with the car you see below. It was part of a three car Greg Murphy Racing outfit, a team that took the Carrera Cup title in 2004 (Alex Davidson) and 2005 (Fabian Coulthard) with their colourful Glensfords Tool Centre sponsorship. My car was the sister car, driven by a young Ian Dyk in 2005 who claimed a few podiums that year. Dyk later went on to represent Australia in the now defunct A1GP. Ian is a nice bloke, I was able to make contact with him on Instagram to help me fill in some blanks on the history and he was very obliging.
Hereís the car fresh off the plane from Germany in early 2003 prior to prep for the inaugural season of Carrera Cup Australia.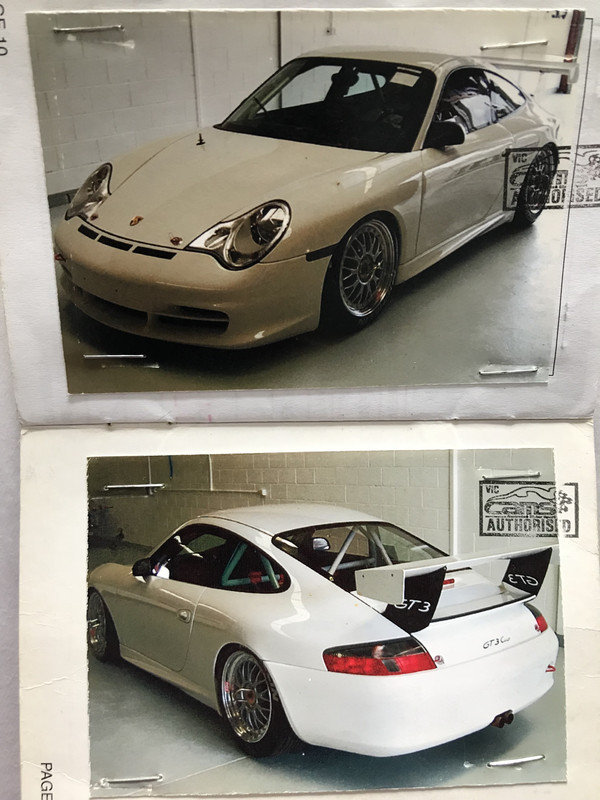 This is how the car looked in 2003/2004 driven by orthopedic surgeon Roger Oakeshott. Some might remember this livery from back in the day.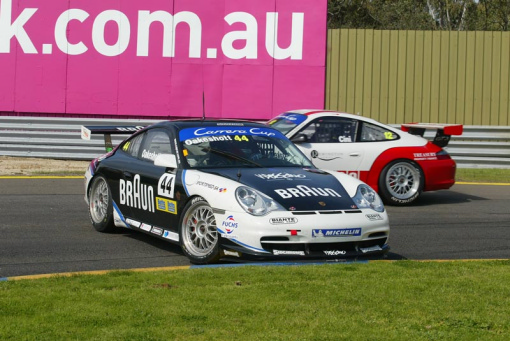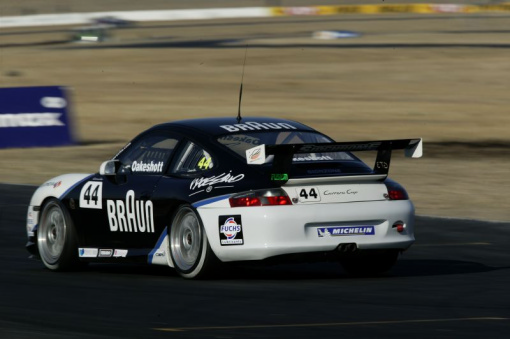 And in 2005 with the Glenfords livery...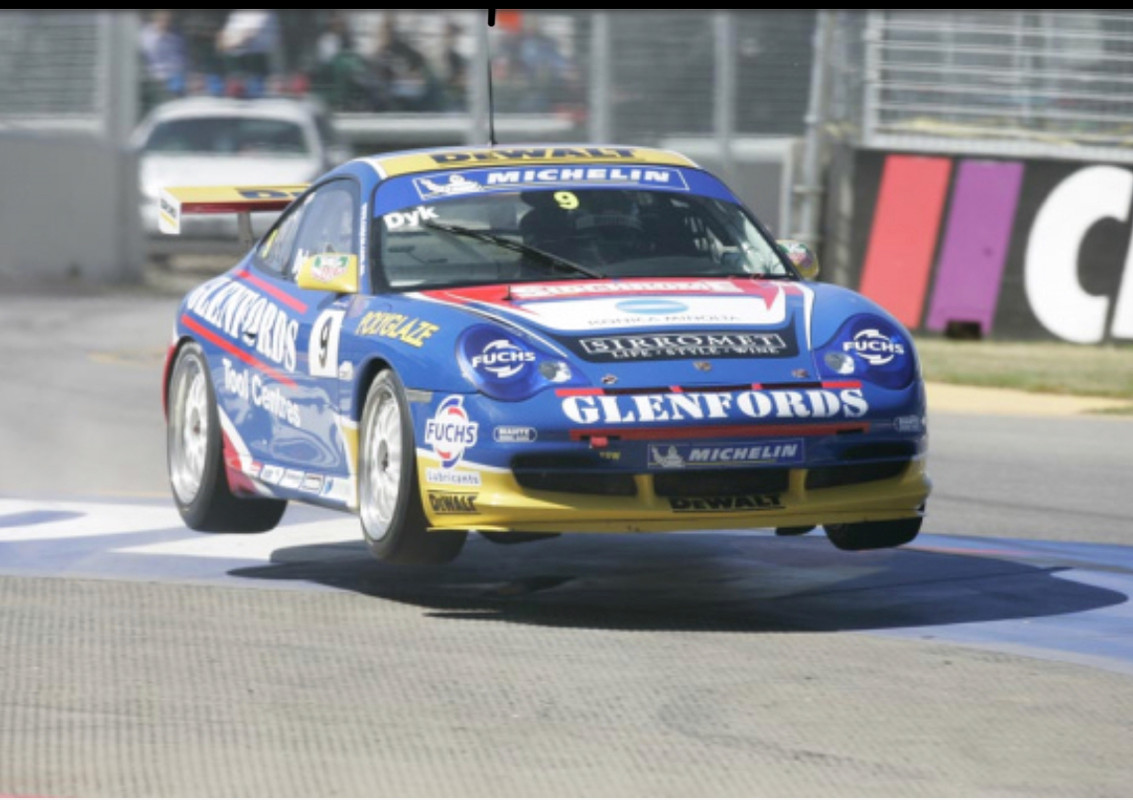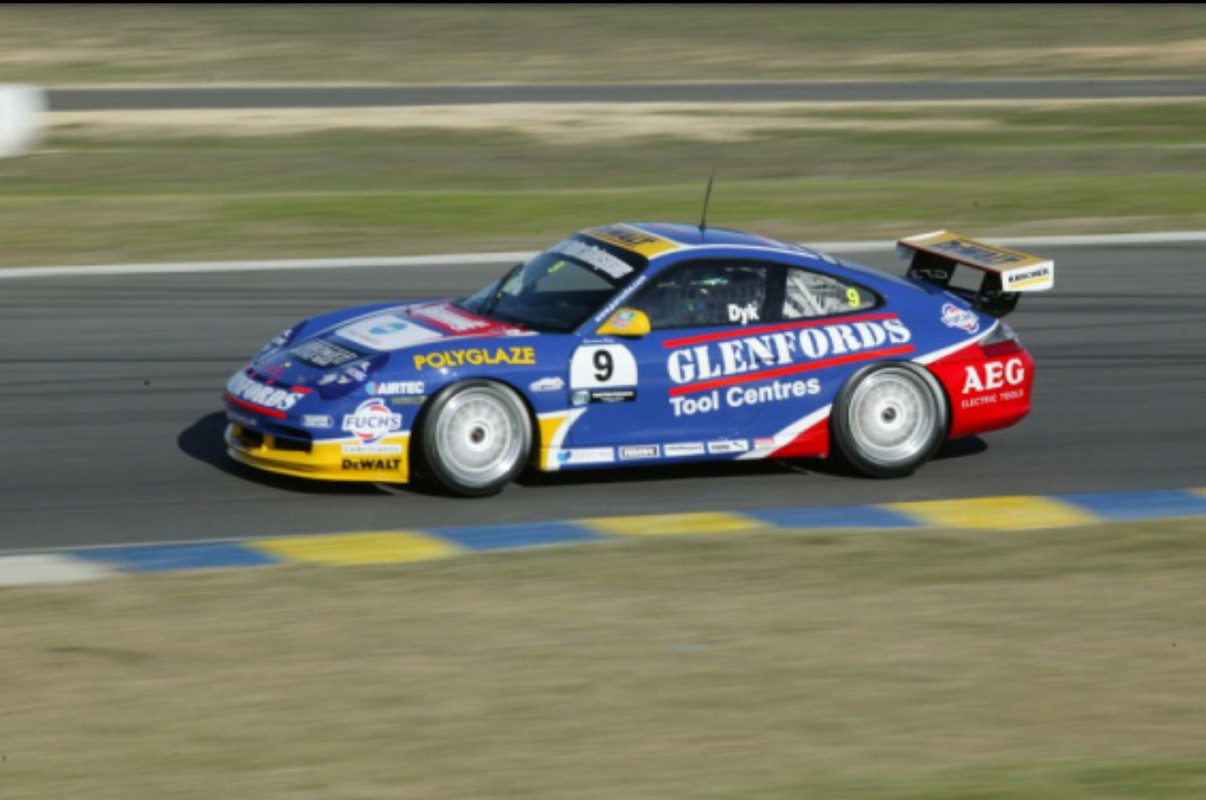 After the completion of the 2005 Carrera Cup season, all of the 996s were sold off by the pro teams in anticipation of the 2006 season in which the new 997 cup would make its Australian debut. At this time, Greg Murphy Racing made a deal to sell this particular car to a Dentist from Melbourne who was a Porsche enthusiast and was into racing. The Dentist raced the car from 2006-2009 as an ďarrive and driveĒ utilising the services of a local Porsche shop. The car was entered into various categories and events, including the Victorian State Champs, Island Magic, Aus GT (F1 round) and finally in 2009, the Porsche GT3 Cup Challenge support category for that yearís Bathurst 12 hour. I say finally, because during one of the races in that round, The Dentist sustained incidental contact in the rear from another car whilst going quite fast across the top of the mountain, resulting in a near head on smack into the concrete barrier. The front end of the car was heavily damaged, along broken left hand front and rear suspension and rear 1/4 panel.
Bathurst 2009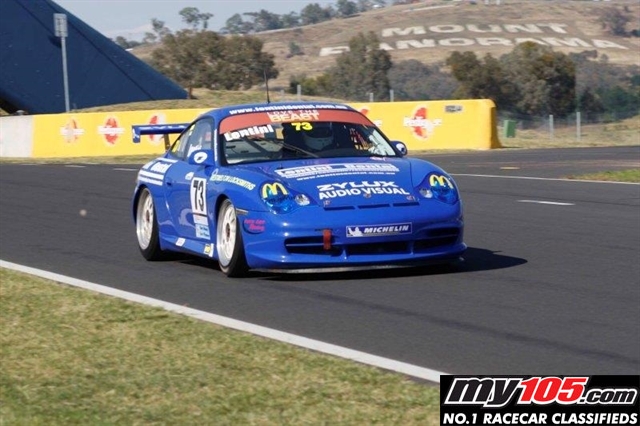 After the crash, the car sat in the corner of a workshop for 2 years, probably while The Dentist procrastinated about what he would do with it. After some deliberation he decided to repair it, and so an entire new front tub, all new front body panels from the windscreen forward and left rear 1/4 panel were fitted, along with the necessary repairs to the suspension. At this point the car underwent a full respray in its ďGlenfords BlueĒ. A rumored 80K was spent. The repair job is evidently very high quality. At some point during the repair process, The Dentist decided racing was behind him and that it was time to sell.
By this time, 9 years had passed since the accident and in March 2018, I saw the car on my105. I made a phone call and arranged to have a local friend view the car. They were offering the opportunity test the car as it had not been driven in almost a decade and had since undergone a fairly significant rebuild. It needed a shakedown and the owner was not interested in driving the car anymore. After the PPI checked out, a sale price was agreed on and deposit paid subject to the car testing well. I flew to Melbourne with the plan to test the car. The day before I was due to leave, I got a call from the workshop explaining that they had discovered oil
in the coolant, with a suspected failed heat exhanger. Apparently a common issue with old cup cars that sit around, where the internal wall of the heat exchanger fails due to corrosion, allowing oil
and coolant to mix. Because of the exhangerís location on top of the motor at the back of the bay, itís an engine out job. $1200 part. Phew, glad it happened before I had handed any more money over. Since I couldnít get a refund on my flight, I decided to go and see the car anyway. I was greeted with a dusty car that someone had given a fugly headlight treatment, but couldnít wait to be able to drive it.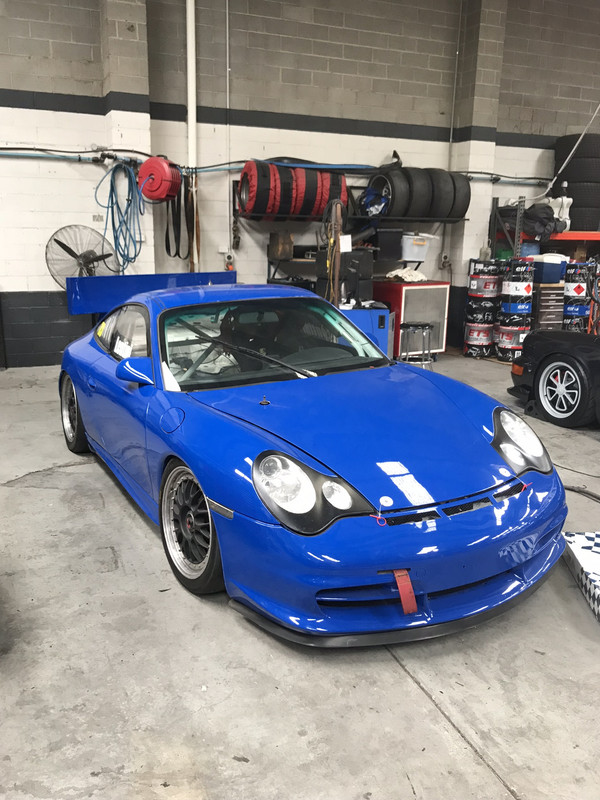 Fast forward one month, a new heat exhanger had arrived from Germany and was fitted. The car was ready to go. Off I go back to Melbourne to test the car at Winton with the support of The Dentistís race shop. Foreign track, first time driving a cup car, someone elseís I might add...slightly intimidating!
Out I go for my first ever lap in the car, and it would not seem to go above 40 km/h. The ignition kept cutting out. My first thought was WTF! Half way through the painfully slow lap, it occurred to me that the pit speed limiter was on and I had no fucking idea how to turn it off. The side mirrors were also not adjusted properly and anyone who has ever driven a cup car would know that you canít see a thing out of them at the best of times due to the halo seat and shitty side mirrors. The remainder of the roughly 5 minute lap was spent with me shitting myself while trying to stay out of the way of the other cars zooming past as I limped back to the pits. Ego deflated.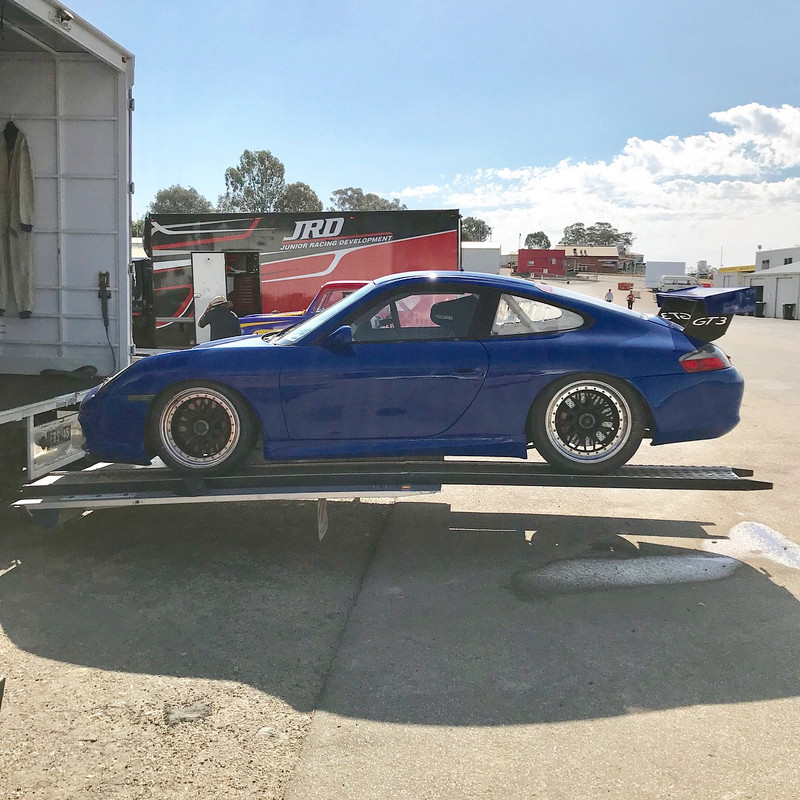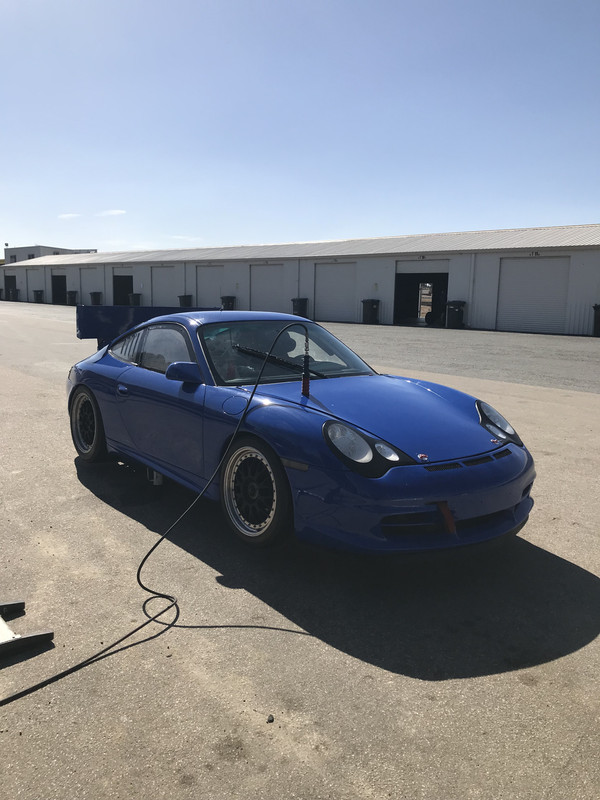 Second session, mirrors adjusted, pit limiter button identified (itís the cruise control button, in case you were wondering) and turned OFF. Away we go. A few laps in, loving it. Slicks are awesome, the sounds are awesome. Helmet bouncing against roll cage, bumpy, shifting gears with my right hand. AWESOME! Then I realise I can smell coolant. Then I see the temp needle go all the way to the end and red light come on so I shut it off immediately and get a tow in. Turns out a coolant hose had popped off, probably because it had been contaminated with oil from the previous heat exhanger failure. The cooling system had been flushed prior to the test day, but with 23L of coolant and a multitude of coolant piping and hoses on these cars, itís dificult to eliminate ALL of the risidual oil from the system. Fortunately the hose that went was only a small one. The next 40 minutes were nervous ones for me, as I was wondering whether or not we had just killed the engine in a car that I did not yet own. It was getting late and I had to be leaving for my flight soon but we decided it would be a good idea to run one more time to make sure everything was OK. The hose was buttoned up, 23L of Wintonís best toilet block water was added, and out I went...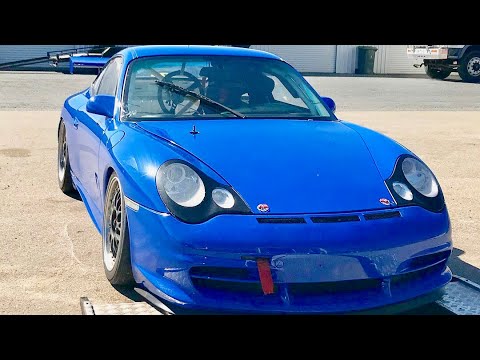 Very much just putting around, trying to stay away from MX-5s who want to block the line, but the car ran fine. Very relieved! Next step, after catching my plane, was to get the car back to Adelaide.