Team PF,
Thought it was probably about time I'd post this thing up.
I'm not really sure how this happened, but I believe it may have been a combination of two blokes having a simultaneous mid-life crisis with total lack regard for practical things. A good friend (also a PF Lurker) and I decided that after both being part owners in the worlds slowest race car with a bunch of other blokes that we were ready to branch out into our own car with a
slight upgrade
.
Lance:
http://performanceforums.com/forums/...owest-race-car
We thought about lots of different options, considered an ex-V8SC but eventually decided it had to be a Porsche GT3/Cup Car. There are so many of them around globally and so parts are "relatively" cheap, and plenty of workshops can thrown a spanner on them. The 996s were too close to a road car for our liking, and the 991s are still way too expensive, so we landed on the arguably more hardcore 997.1.
Lots of research was done and we had a look at a couple before we ended up finding this fine example in the hills of Adelaide (kudos to
spiller
for his help with verification).
It is a 2006 997.1 GT3 cup car – with the 3.6L N/A and sequential gearbox.
It had originally been owned by Grove Racing in the Cup series in 2012. Had since been through 3 different owners since and had come with a strong maintenance history. For all intents and purposes it was neater than some other examples out there. Plenty of hours left on the engine and box which were the main things, and given neither of us had played with one of these before came with all the ancillary gear and a tonne of spares.
The prior owner was kind enough to organise shipment of the car to PI in Melbourne with the BRM transporter ex-ADL, so Ben drove down to pick it up. I went to Bali and drank cocktails and beers and was zero help.
Here was my contribution to the 24hr+ transport operation.
Eventually with the car back in Sydney we had to source a suitable trailer – especially with how low the weird lip on the front bar was. That could probably be an entire build thread, but need to say that took significantly longer than anticipated because as per prior PF threads, trailer build people are a special kind. That is a longer story than I'm prepared to air at this point.
What seemed like an eternity later, the trailer arrived. We thought it'd be prudent to get some experts to look over it before we put our lives at risk, so took it to PR Technology at Brookvale so they could give it the once over. Mostly simple routine maintenance items were completed; new engine and gearbox fluids, wheel alignment, bled the brakes, new set of plugs and onto the dyno. I don't know what these things are supposed to make, but apparently this thing made an abnormal amount of power for a 997, more than PR have had on their dyno before. Probably good news? With this in mind and a clean bill of health, we managed to get it loaded up for our first shakedown at Wakefield Park the following day.
We were fortunate enough with a mid-week session to be able to enter it into the race car session (for old mate, lining up with a GT3 Audi and a couple of ex-V8SC), and the street car class for me, running against Hondas where I belong. It was a perfect day weather wise, and we pretty much rolled it out off the trailer and onto the track. Didn't even check the tyre pressures until the last session, where we realised 40psi was probably on the high side. We're yet to go through all the data on the Motec, but would've done somewhere in the realm of about 30 laps each. Considering neither of us had driven the car before, and for me it was the first time at Wakefield Park in anything, we were pretty happy with our respective times.
I struggled around a 1.05 and Ben tapped out a super solid 1.01.7.
How was it to steer on the track? Immense. In a straight line it'd probably be a low to flat 11? So certainly faster things out there. But the brakes, the grip, that sequential box… phenomenal. I can't describe how hard you need to be on the brakes, it is like trying to put your foot through a concrete floor. I was constantly under-braking, because of my weak chicken legs. First time I'd driven a sequential too, took a little bit to get used to. The clutch-less up-shifts are absolutely satisfying and the downshifts require some clutch input (auto-blipper makes it easier). The downshift and engine braking makes an enormous difference – to the point of where if you miss a downshift, you'll miss the corner and run off.
On the handling, I had heard that they have a tendency to understeer. Incorrect. I found it exceptionally prone to oversteer, especially with the rear engine dynamic. I cannot begin to describe the levels of grip it has on the slicks, but beyond that limit when it lets go you don't have much warning to catch it. Might as well share all of my "lol" moments in the video format.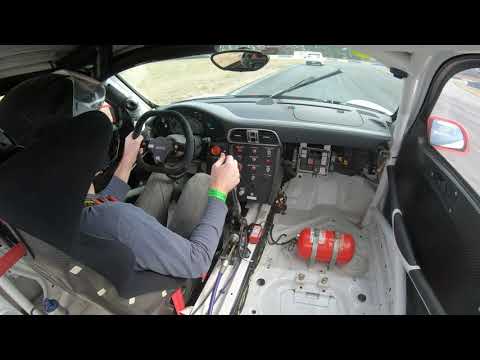 Here is Ben's, as you can tell unlike my good self, he has a talent level significantly more suited to driving fast race cars.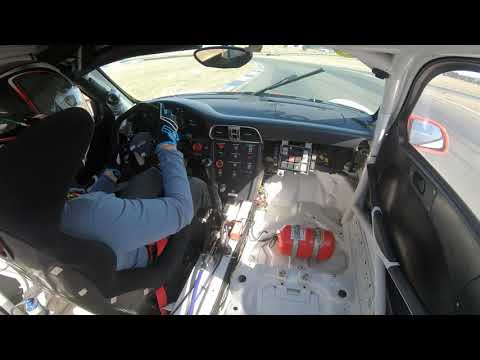 So aside from cleaning most of Wakefield Park out of under the car we're ready to go for our next session which will be at SMSP. Anticipating that'll be significantly more intimidating with the much higher speeds and constant threat of concrete so going to need to get some solid practice in before trying to set any decent times.
The longer term plan once we get accustomed to the car is to enter it into some competitive events rather than just playing around at track days, but we're not in any rush to do that so we'll play it by ear. Have a spare seat as well to throw in when we find something where passenger days are permitted, but no real plans to change anything else except maybe throwing giant Freedom Funding stickers up on it
Placeholder for some tears to come, I'm sure...