I thought I'd start a new thread, since the other one had ten pages of jibba jabba and that was before the car arrived :-)
So here's the new rig: a 2001 Toyota Aristo, which was sourced from Japan by Iron Chef Imports, who are the biggest and the best. She's a super mint, Grade 4.5B 66,000km unmolested example of the V300 twin turbo model (more of which anon). Here's what it looks like as of today, with some of the mods already applied.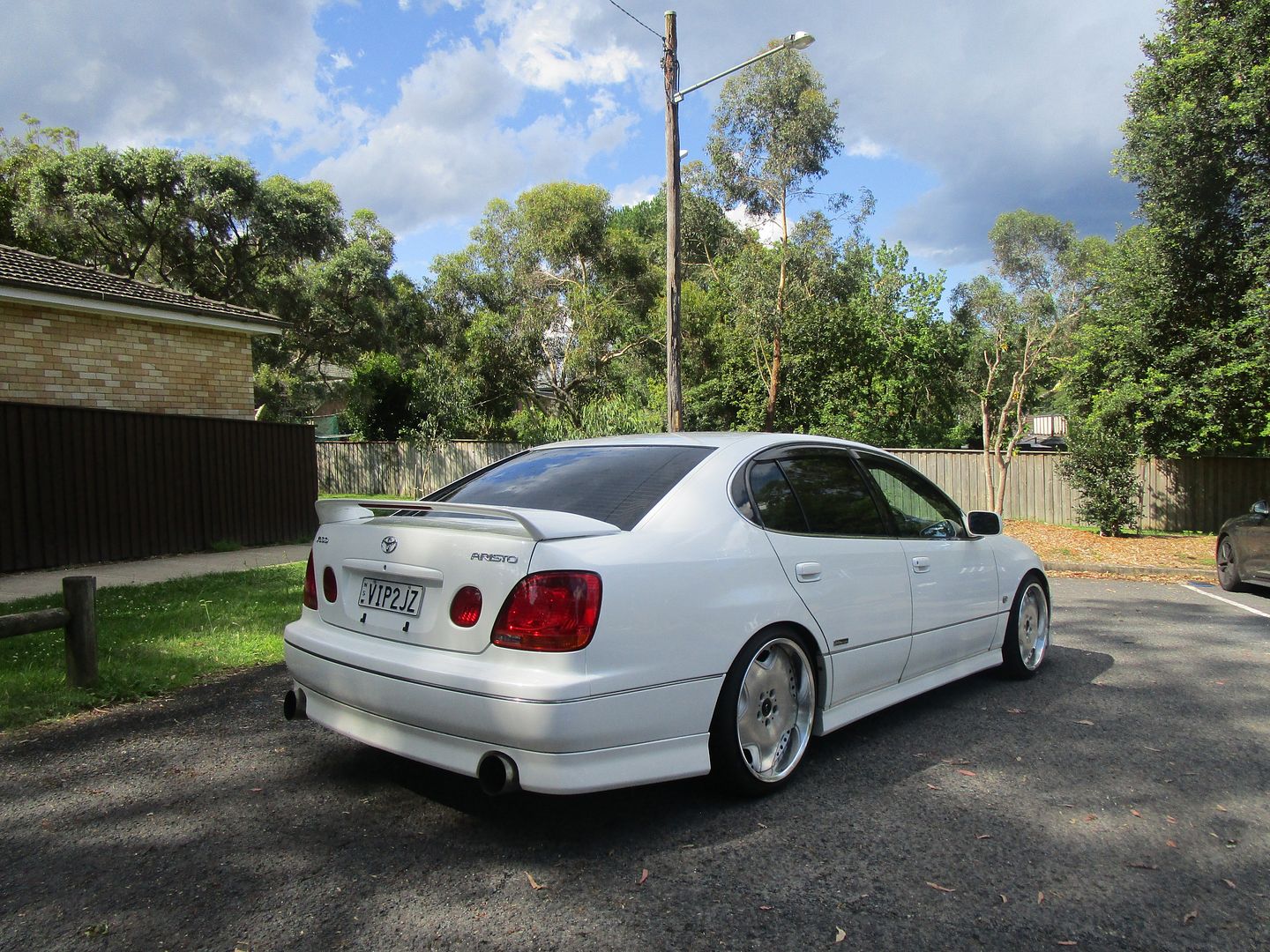 But I'm getting ahead of myself. A few weeks ago, Graeme at Top Secret Imports called to say that the compliance process was all done and the Aristo was ready to be collected...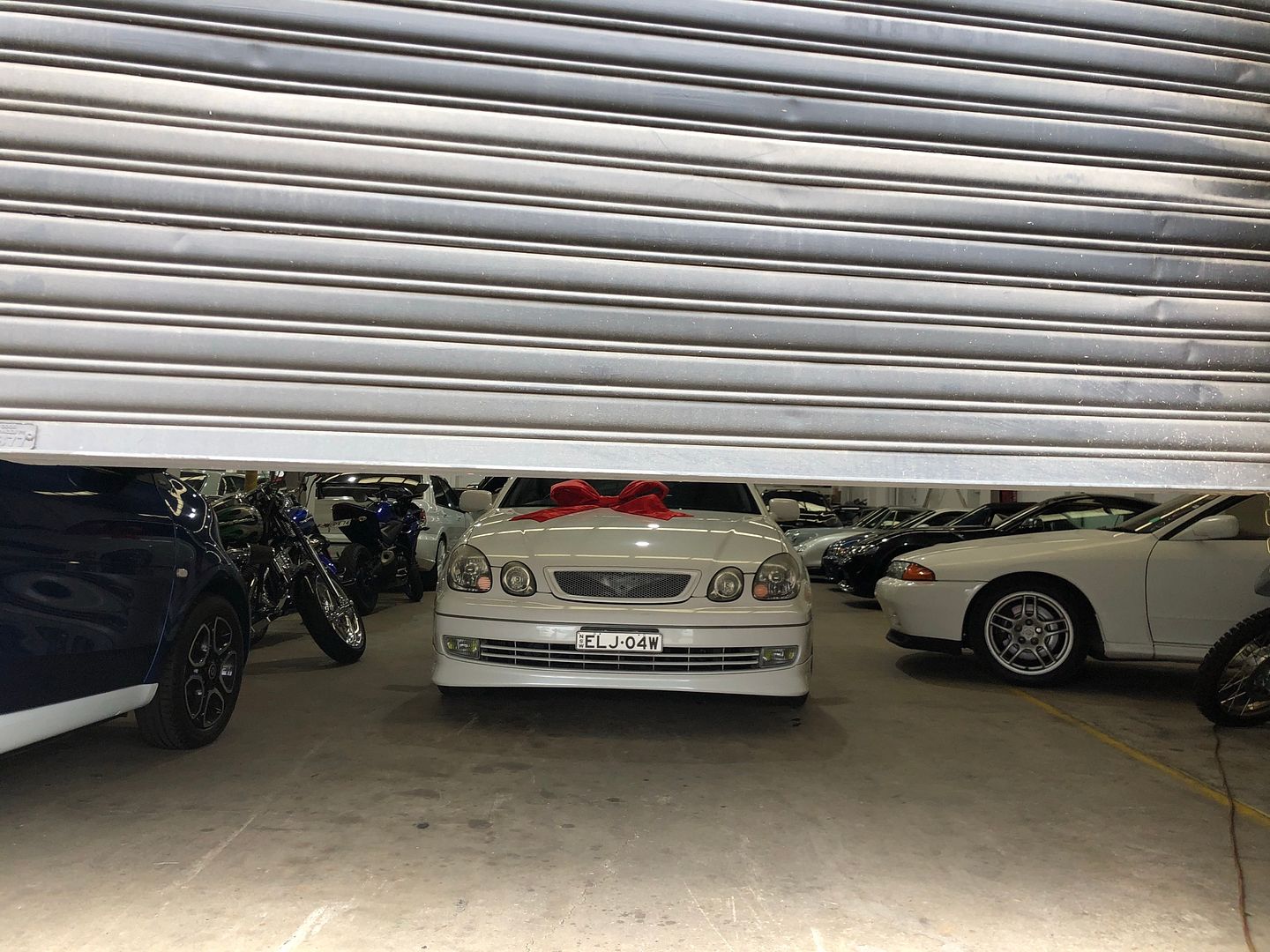 We excitedly went over to pick her up and the car looked to be in great order, so we gladly accepted the keys and set off for home.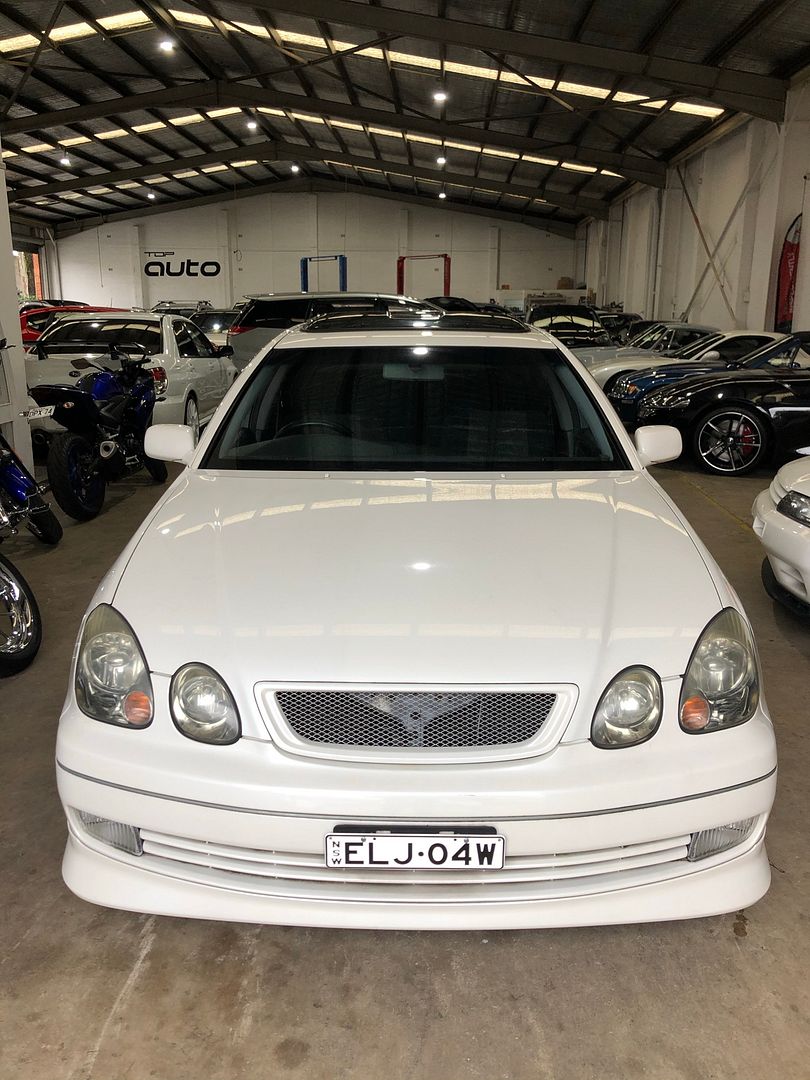 But along the way, the Aristo started to show some signs of being a little sick. There was an intermittent miss, but due to COVID the car's journey to Sydney was a somewhat protracted one, and it probably hadn't been driven in a really long time. So I threw some fresh fuel into the Aristo's belly and crossed my fingers, but if anything the refuelling made it worse. And now the mission was to get it safely back to the garage where I could attempt to diagnose it, and hopefully it wasn't anything terminal. On the freeway, the dash would suddenly black out, the engine would cut and there would be an interminable few seconds before the Aristo came back to life again. This suddenly seemed like it was potentially a simple issue though, if it was a power supply issue that was causing everything.
After limping back into the garage, it turns out the negative battery terminal was quite loose, and covered in that furry corrosion. I sanded all that clean, refitted the battery and the car burst cleanly to life again! I guess the battery terminal may have been a little loose in Japan, then the car's long hibernation made the connection corrode, and when I turned up to take it on a long drive home, I was basically running down whatever little juice was left in the battery, which wasn't getting charged...and hence the intermittent miss got worse the further I drove. I was depleting the battery, which was just about enough to limp home, with the dash blackouts getting more and more frequent as I neared home.
Hence the poor spark and intermittent miss...which was now addressed but hadn't totally gone away. So let's open her up for a look.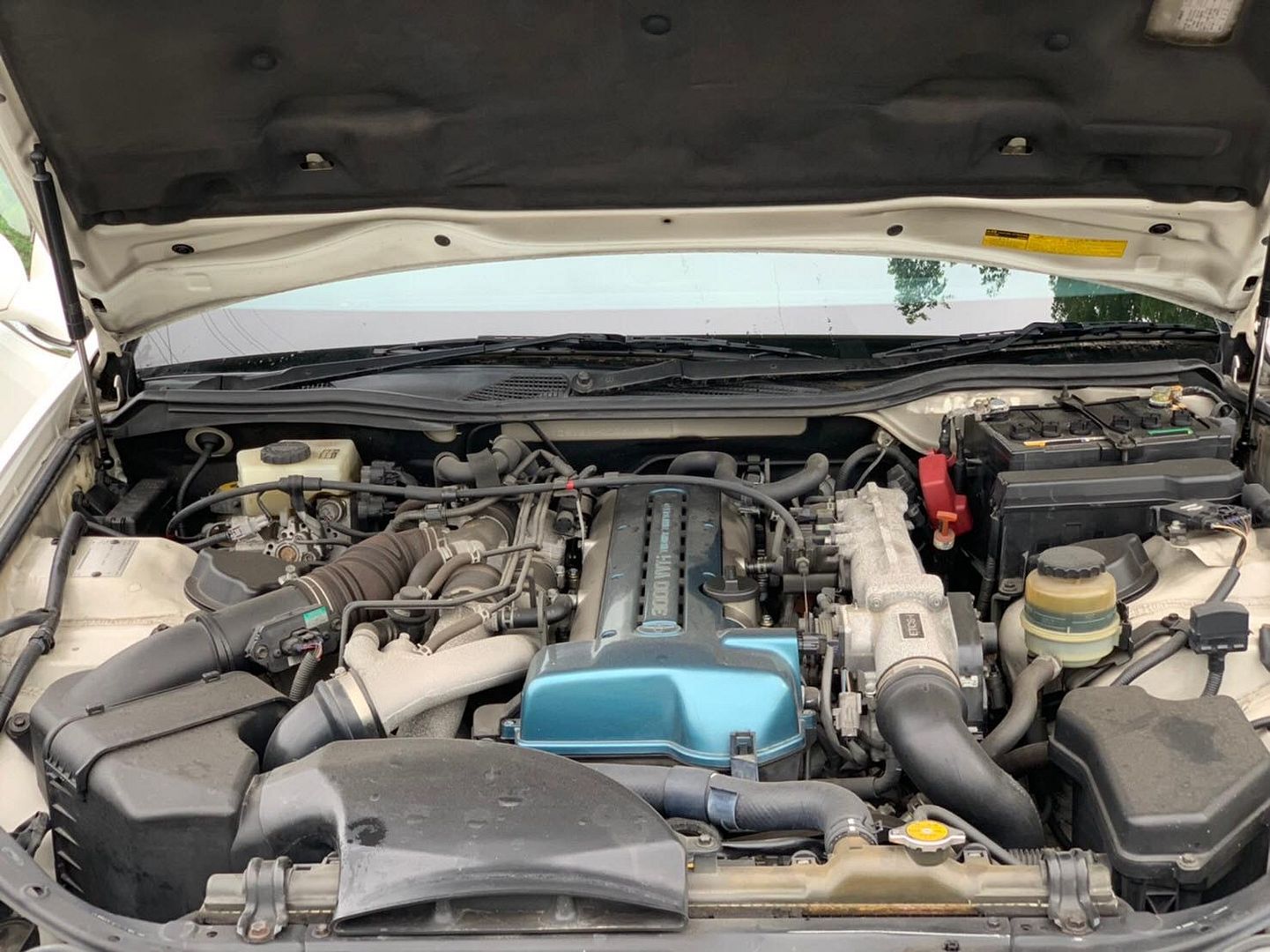 The Aristo comes with the later VVTi version of the 2JZGTE, which means that it has three coilpacks in a wasted spark arrangement. That means that when each coil engages, two spark plugs fire simultaneously: one in the actual ignition stroke of the combustion cycle, and the other plug will fire harmlessly in the exhaust stroke of another cylinder. So to have a look at the plugs, we need to remove the three coilpacks, as well as the short plug leads that run to the remaining three spark plugs.
It didn't take long to discover that the #3 plug was badly fouled. The other 5 were fine, with a dry brown deposit (what the JDM mechanics call "fox colour") but #3 is definitely gone.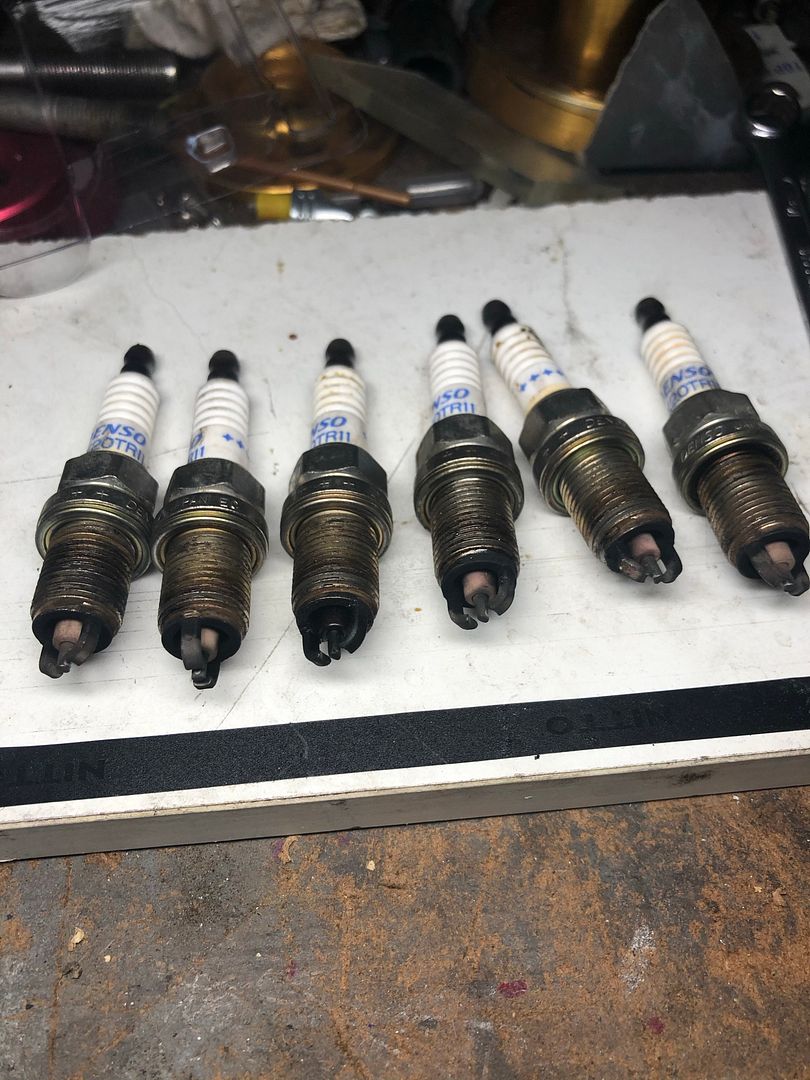 ...that's why she's spittin.
Out with the old, and in with a new set of Iridiums, which I adjusted down to a smaller gap of 0.8mm to go along with the increased boost that we're planning to run.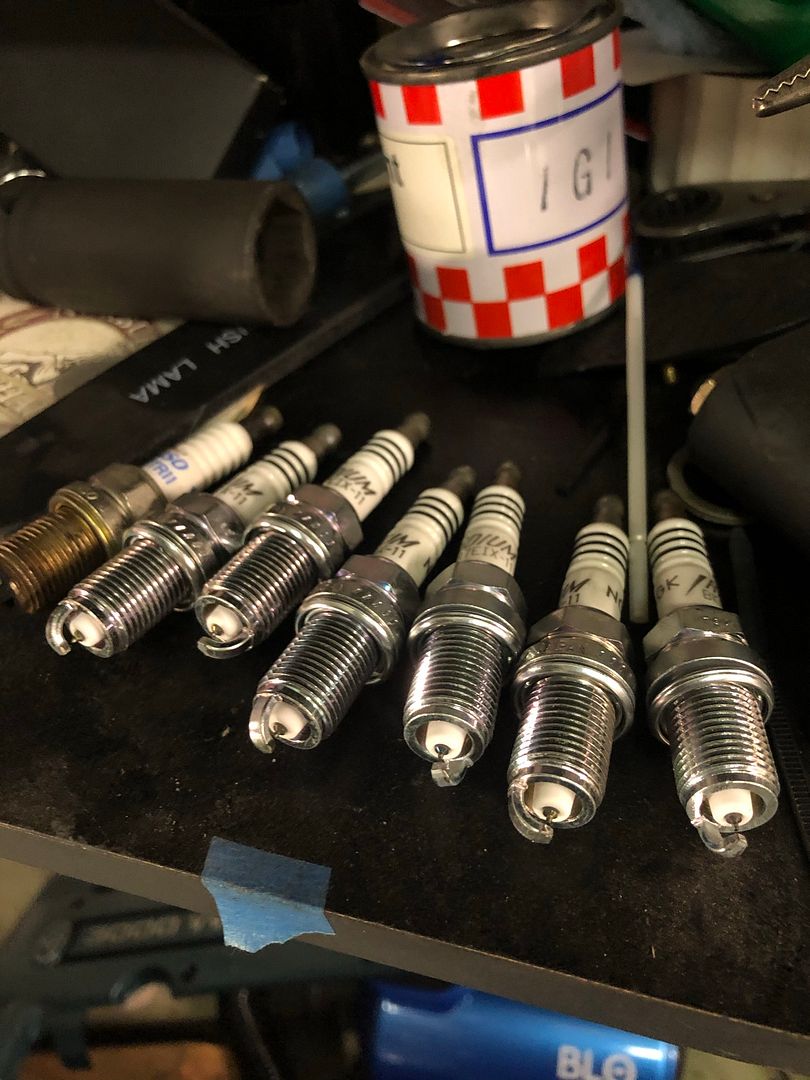 And with that, the 2JZ was now butter-smooth and revved freely. Much faster now too. Just to check that #3 piston is okay, I pulled the #3 plug a few weeks later and it's squeaky clean. Phew. I guess the power supply issue meant poor spark and incomplete combustion, and one spark plug had to fall first I suppose, and it was this one.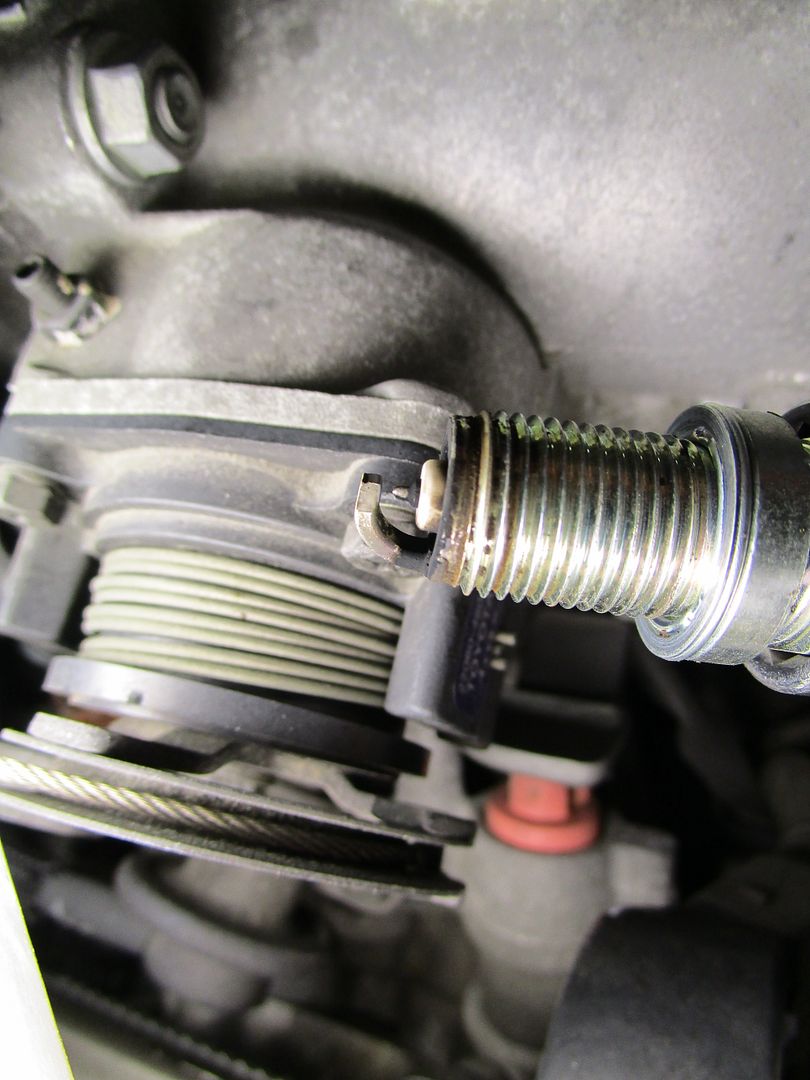 Now we can enjoy the car!
The Aristo is a V300 Vertex Edition; the V300 part means that it's the turbo version (the NA version is called S300) and the Vertex Edition is just a trim level. Getting the Vertex Edition meant you got bigger 17in wheels, a bootlid spoiler, and a charcoal colorway for the interior with black seats and black wood. The non-Vertex Edition got 16in wheels, and more of a grey/tan cabin.
In both trim levels, leather was a pretty rare option.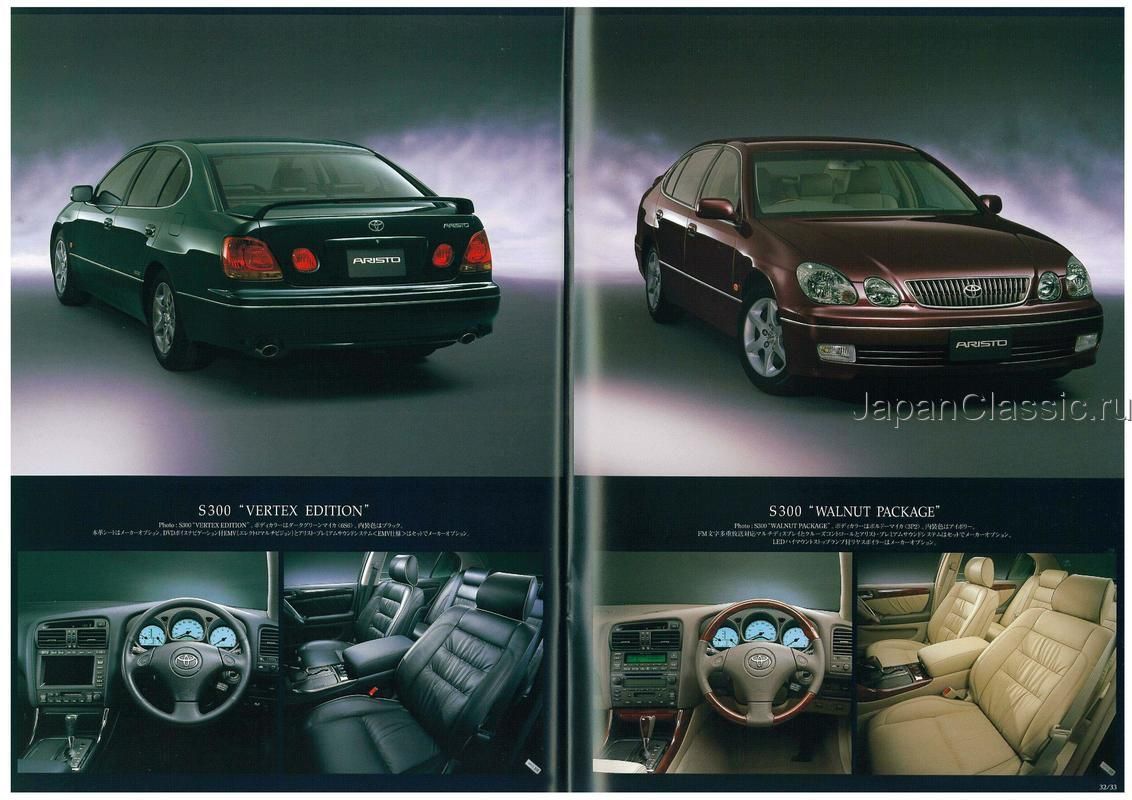 Mechanically all V300s are the same, and apart from having the twin turbo version of the 2JZ, the V300s also got rear wheel steering, with an electric rack in the rear subframe steering in the same direction as the front wheels to add high speed stability. I think I can...kinda...feel it working, the faster you go on a winding road, the more steering lock you seem to have to apply to turn in.
My Aristo is stock with the exception of lowered Tanabe springs on oem-replacement shocks, and the surprisingly deep bodykit is the dealer option Toyota one.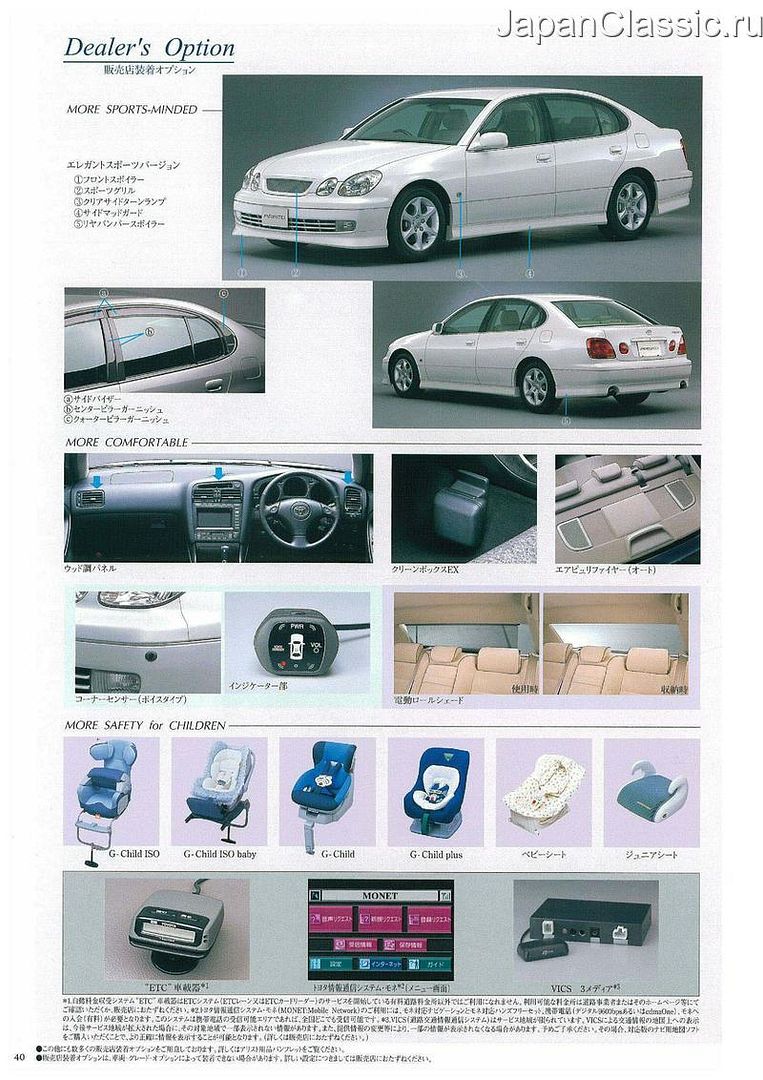 So how's it drive?
Well...let me tell you that anyone who says that an Aristo is "the four door Supra" is engaging in a bit of false advertising :-) In stock form at least, it's very much the little brother to the LS400 than the bigger brother to the Chaser. The engine is whisper quiet, you can't hear the exhaust note at all, merely a distant hint of induction noise far away (basically...the same as an LS400/Celsior). And it is fast, as long as you're not expecting it to feel particularly urgent or responsive. The biggest factor is the very lazy 4spd automatic, which shifts up to top gear almost immediately. This means that the Aristo is never going to snap your head back when you sink the loud pedal, but it does waft along on a wave of torque at low rpms on the first turbo. The second turbo makes its presence felt at 4000rpm, but the gearing is so tall that in second gear this doesn't happen until about 90kmh (second gear redlines at 140). It feels like it might be good for a high 14s quarter mile, but it is definitely one of those 90s cars which goes much faster above 80kmh than it does below it.
And Tanabe springs notwithstanding, it's one hell of a boat :-) It's wafty and soft, it floats over bumps and while it's surprisingly flat when you throw it into a corner, on a winding road there isn't a hell of a lot of feedback and adjustability, and you feel like you're guiding it rather than driving it. Basically like an LS400. The last thought that comes into your mind is that it's some sort of sports sedan, which it clearly isn't. And perish any thoughts of it being some sort of proto F-car that's the harbinger of the ISF; there is no ISF DNA in this vehicle at all.
In stock form.
But I was enjoying wafting along in it, it's got that 90's Toyota overbuilt feel to it, where everything is completely and utterly solid. The doorcards feel like billet plastic, there are zero squeaks and rattles and it feels like it'll last forever. Jack it up and the doors open and close without any body twist. But we can now begin the cleanup, which has to start with the horribly cloudy headlights. My go to product is Duragloss plastic polish, which works a treat.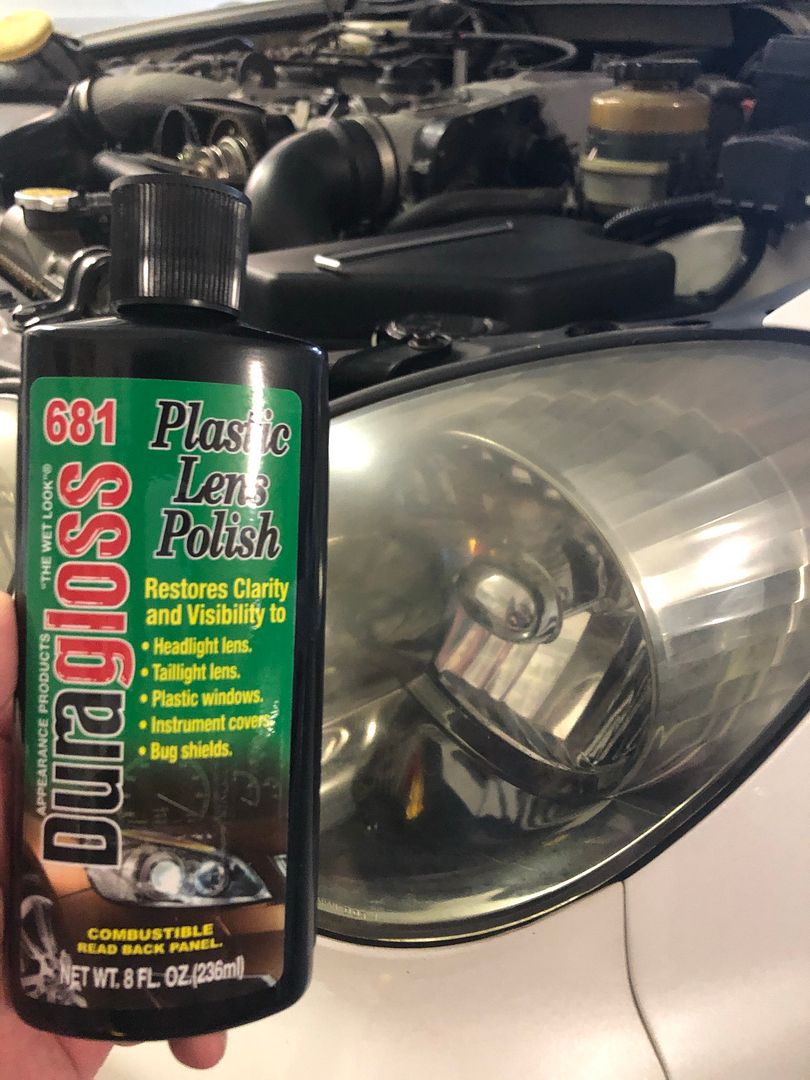 In conjunction with a cutting pad and a machine polisher, 99% of the haze was gone in just one pass.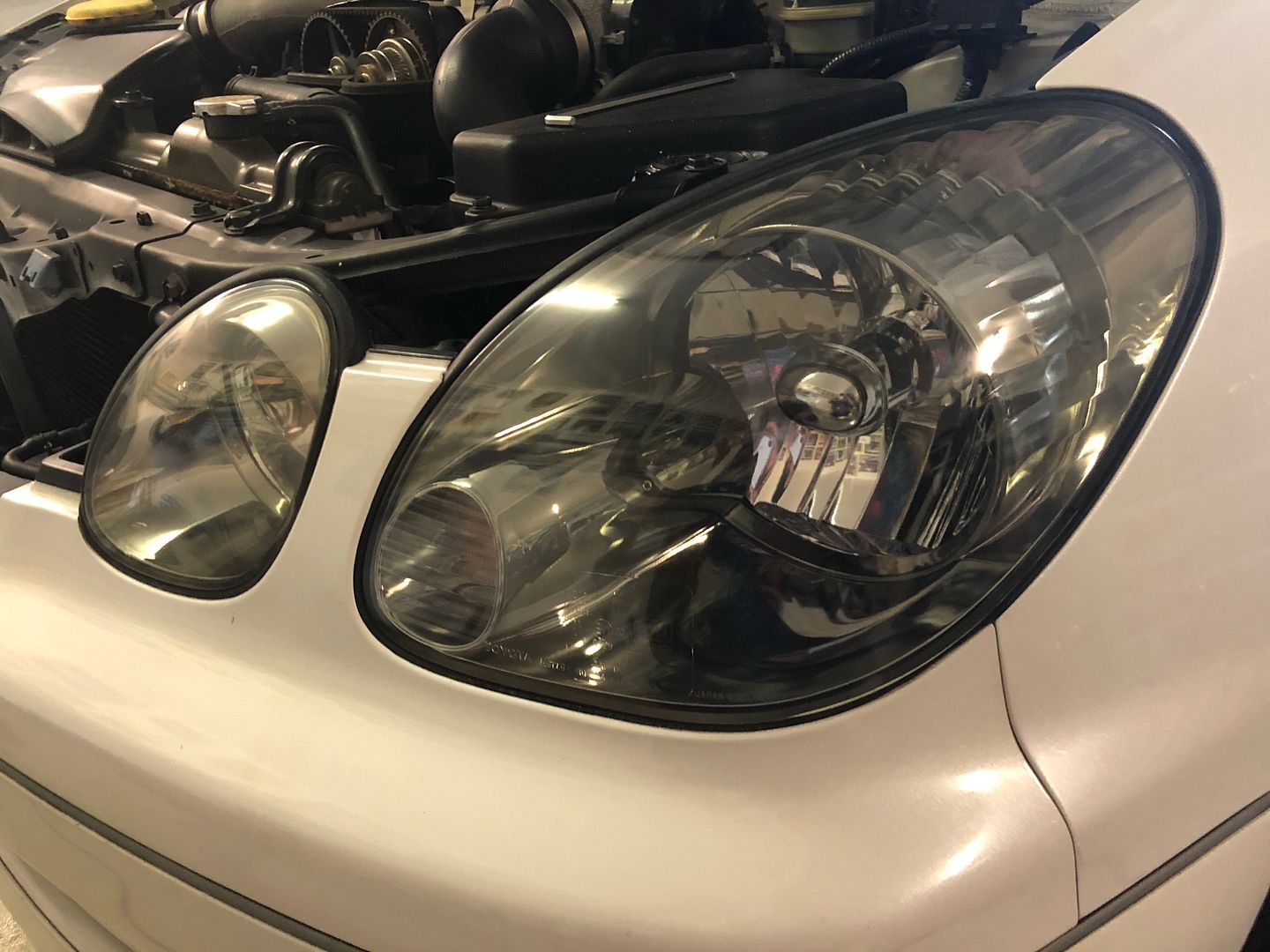 To provide some UV resistance to prevent the headlights yellowing again, I apply a few coats of Gyeon Trim, which will last about a year. You just put a few droplets onto the suede cloth, wipe it on evenly and then buff it off with a microfibre towel. Repeat a few hours later and that's it. This stuff works really well on the exterior plastics to make them glossy and black again too.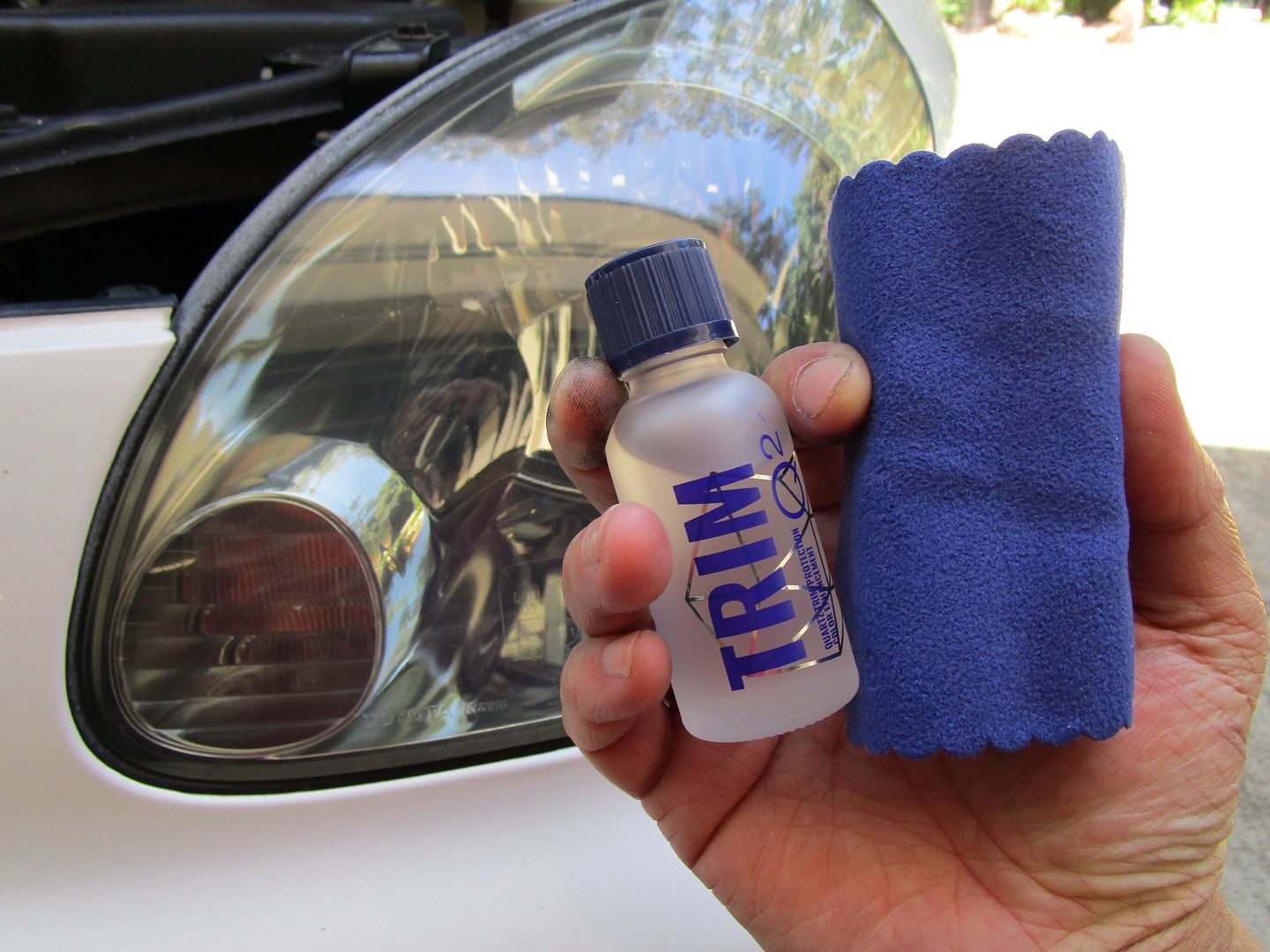 I've left the big paint correction and coating exercise for another day, but she cleans up just fine.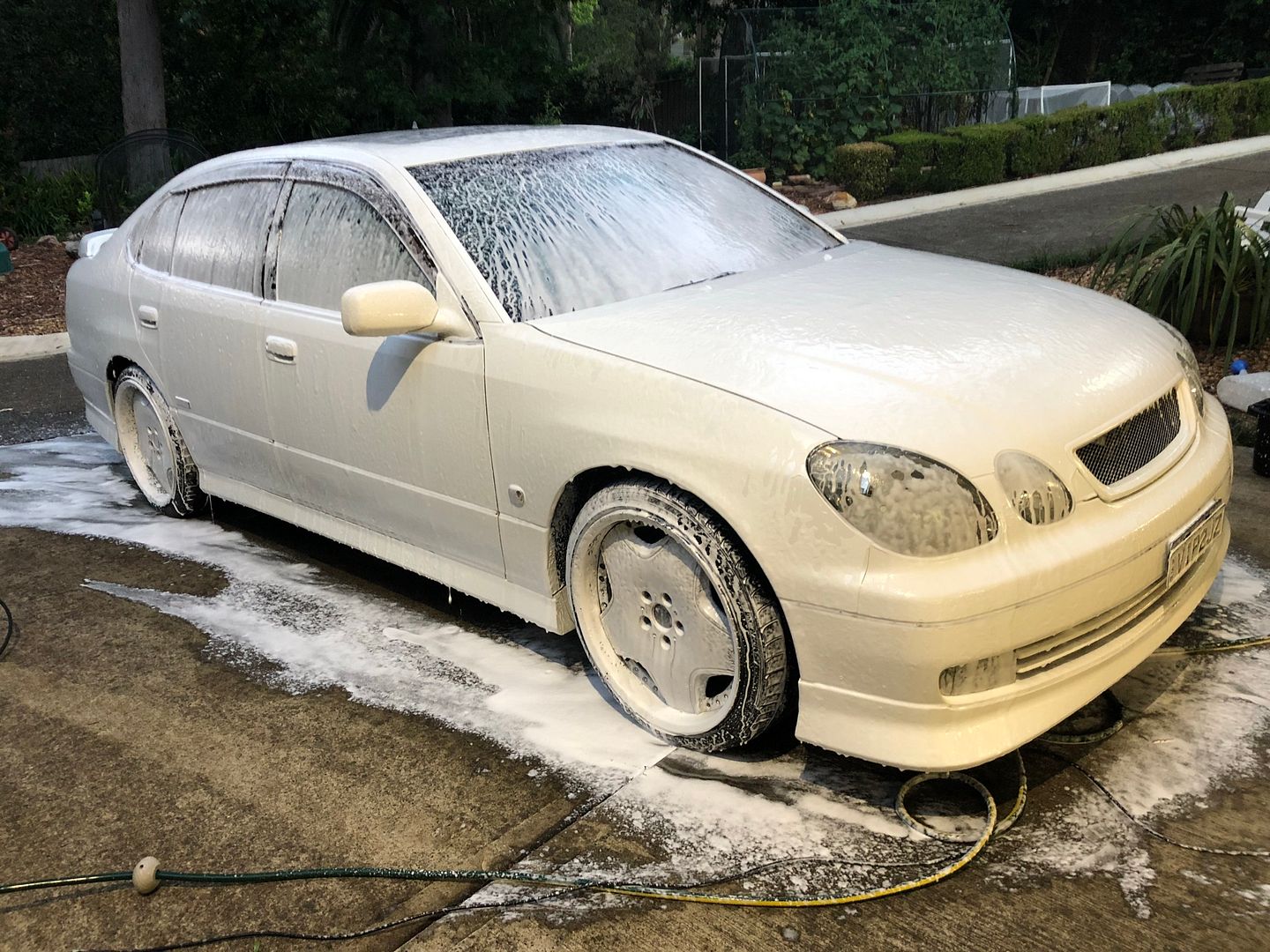 Actually it's in astonishing condition, with no dents or scratches, and it's all original paint except for the front bumper, which looks to have been redone at some point.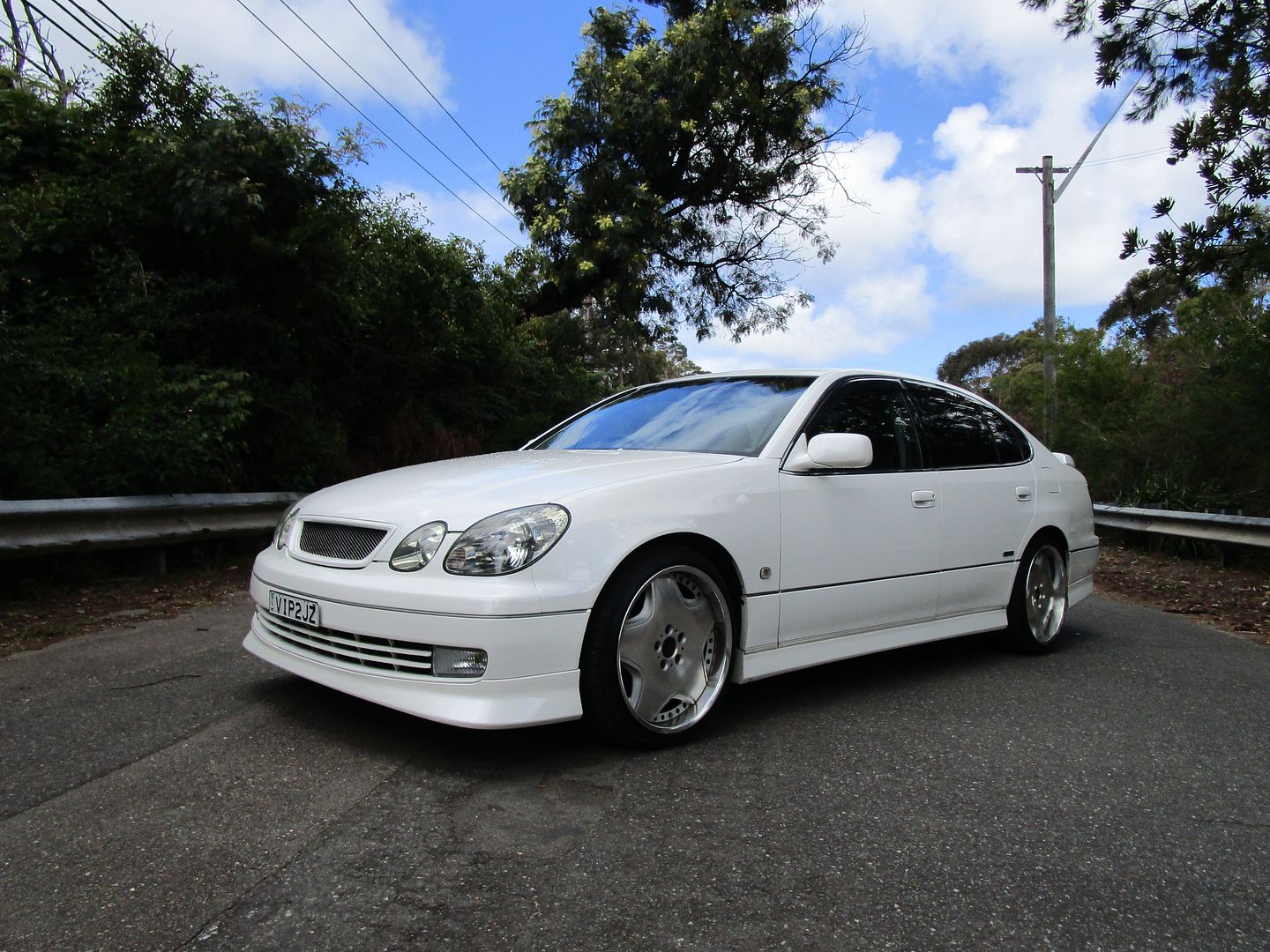 The paint isn't even swirly, I just gave it a quick once over with Menzerna Heavy Cut to basically just decontaminate it, and it came up so good I didn't take it any further. Iron Chef always has that knack of sourcing me that perfect car, the previous one was the FD3S, which was also unfeasibly mint.