Debated putting this one up as its likely to bore people to death but being on 2 weeks forced holiday thanks to whats currently going on in Vic, i figure fuck it - at least itll keep me honest in actually getting me to work on the thing and keep track of its progress.
So, a long story shortened - the last couple of years have been pretty chaotic and that was
before
someone ate a bat and basically gave the whole world AIDS. The past 5 or so years have, in condensed form, gone like this - sold a house, gotten married, bought another house, daughter was born, house fell apart because the bloke that built it was a shit cunt, bought another house, spent 6mths trying to sell shitbox house and 18months renoing the latest acquired house, 2nd child born. In between it all i left my job of 8years after an almost physical altercation, started in a completely new industry from ground zero, and now obviously the world has gone mental. Somewhere in there, my Gemini which was kind of my baby got rear ended by a VE and completely written off, I killed one 4wd, sold another half built because of the house reno taking up all my time, and killed a second one when i put it on it side at Beachport. As a result of all this, I kind of lost the love for it all a bit - it honestly felt like all i was doing was working on shit, not getting anything done, everything fighting me and just generally swimming against the tide. So I did the sensible thing and bought a sensible car; a 4x4 diesel dual cab.
Now. What I bought was an RC Colorado with the legendary 4JJ1. And in typical Isuzu fashion, it was fucking brilliant - dependable, economical, and generally does everything it says on the box even if the box had a Holden badge slapped on it. But, and its a big but - it just wasnt me. It was so good and competent it was boring. And by this point, the itch to play with something was beginning to come back. I then spent 12months of the near 2 years of owning it complaining that I wanted something cooler, and trying to convince myself that id be better off selling it. A hard sell given that with fatherhood came a modicum of sensibility which i lacked in a previous life. The perfect excuse to pull the trigger appeared when I got put on my current jobsite [which im likely to be on for the next few years]. Its not exactly close to home - on average, im doing 650ks a week just in travel to work. The problem with that is my car doubles as both a work car and our weekend "get away" car. The last thing i want to be doing come Xmas break when we are meant to be going away is a shitload of maintenance replacing tyres and other wear items that have been murdered just driving to work down the Ring road and the Calder. Plan hatched; sell the RC, buy a cheap ute for work duties, buy an older 4wd and build a more focused tourer.
Criteria was simple; it needed to be something reliable, something i wouldnt choose or want to modify, cheap, and not need much work but be simple to work on. Short list was Falcon ute of some description [XH, XG, AU], VR/VS Ute or TF Rodeo - tops 5k all in. As part of the symptoms of the world going mental due to Covid, so too have the prices of cars. Worked out well recently when I sold the RC for more than it owed me after 2 years, but not so good for finding a work hack. I literally searched daily for 6months and NOTHING was really worth jumping out and spending money on. Then by random chance on my lunch break I jumped on Manheims and this was what greeted me: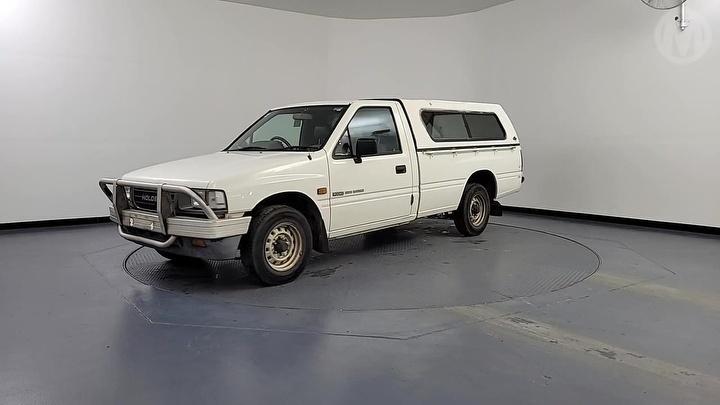 Behold! 1x 1996 TF Rodeo 4ZE1 Manual with just under 200k on the clock. 3D interior shot looked fucking MINT inside. Outside looked ok minus the obviously manky canopy and bumps and bruises but looked ok.
Quick phone conference with mrs; no time to look at it, its probably not as neat as it looks but fuck it just bid anyway. If it ends up being rubbish, ill deal with it then. Turns out i was the winning bidder and nabbed it for well under my max bid. With auction fees AND transport to my door, it came in at under 1400. Win?
Get home from work to find it in the middle of my driveway. First impressions are....not good, not bad. Its not as neat as it looked in photos but its not beyond saving. The rear in particular looks like it had been parked via braille repeatedly and the tailgate was absolutely fucked. There is bathroom silicon EVERYWHERE; the canopy is completely caked in it. Quick look under the bonnet and it actually looks like its been looked after; the oil is clean, the leads are newish, the coolant is green and the timing belt has clearly been done. Also, it has AC and PS which is pretty rare on these pov spec utes. First thoughts are, surely this thing was owned by an old bloke and its a deceased estate or abandoned after the previous owner was no longer. I was close, but more on that later.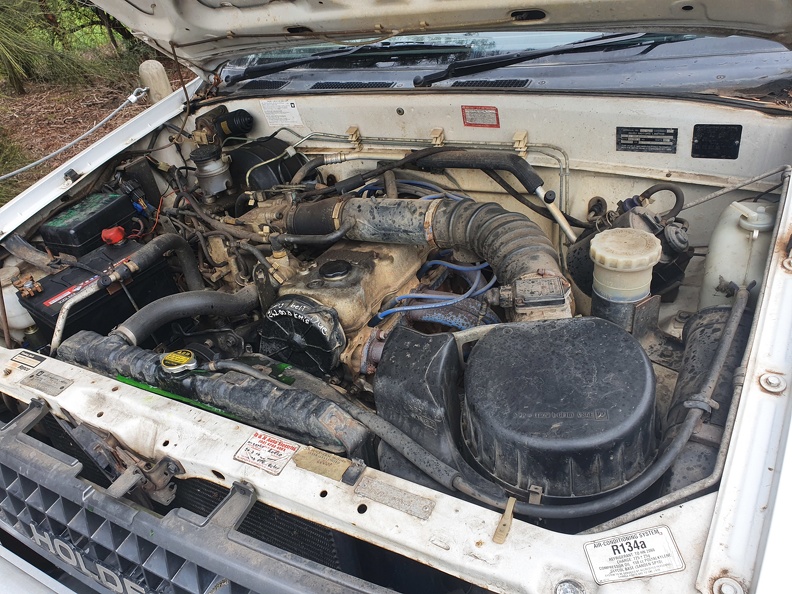 Could be onto a winner here - and then i go to start it....and the cunt wont start. Not even a splutter or a kick, just endless cranking. At this point my Mrs is on her way home from work and the fucking thing is in the middle of the driveway - now, shes supportive as fuck when it comes to car stuff, but she wasnt really on board with buying it site unseen. How the hell do i explain to her it wont start? Check spark, pulled multimeter out, checking fuses and relays, checking power to fuel pump.....and then it dawns on me. It has ZERO fuel in it, and my driveway is on a slope downhill. Quick splash of mower fuel and it fires first go
Curiosity is the leading killer of cats and it got the better of me. There were a few stickers on the car, one of which was on the drivers window and bears a striking resemblance to a council issued Abandoned Vehicle Notice:
The only other recent stickers on the car belong to rock climbing clubs - one in oz, one in NZ - which explains the Parks Vic pass on the windscreen and all the silicon [whoever had it must have been camping in the back]. After going through the two Facebook pages to the climbing clubs I find a post which ties in with the rego being cancelled and the old girl ending up at the auctions. Turns out i was right, the car WAS abandoned after the previous owner had died. What I didnt expect was that the previous owner was marginally older than me and she had committed suicide. Fuck, that went dark really fast. Explains the standard of the "repairs" [the silicon] and the serviced-by-someone evidence.
Two weeks after buying it work tells me Ill be getting a bit of a bump in role and a company car eventually...thatd be right! Still, its clean enough and cheap enough - fuck it, ill spend some time and money on it anyway. Spare ute is always good, hence, Shop Truck.
N-