Fellas,
In another PF thread I asked a question about fatigue and how many of you had come across it - ive only really seen and or heard about it in excessively lowered and abused Commodores before so didnt think that it may actually be the cause of my steering issues. Had a poke around last night and its not looking too good for the old girl :cry: Bare with me here, this is going to be fucking long winded.
Recap on the issues im experiencing [apologies for the wall of text]:
Issue is really hard to describe and really strange. Theres no consistency to it either - sometimes its really bad, other times its like nothing was ever wrong. Majority of the symptoms and or logic point to something mechanical being wrong with the front end, but then there are other symptoms which cant be caused by the front that have me scratching my head. Bare with me here....I know what i feel while im driving, but not sure how to translate that into a language people can understand.

Symptoms are as follows:

-Giant clunk when rolling down a driveway on the brake. Say for eg Im parked in my parents driveway which is right on the 1.5 over 5 council guideline limit. Jump in car, foot on brake, handbrake down and release brake and/or apply brake more while its rolling, results in a loud clang/springy sounding noise coming from the front. Doesnt always do it. My thoughts were the front springs werent quite seated but there is no evidence or witness marks on the spring seats to say that this is the case. On bad days, it knocks from the front over short, sharp bumps.

-Steering randomly binds - occasionally I cant get the full amount of lock, its like its hit the stops but its still a full rotation off of where it should be lock-to-lock. Ive hopped out at the time and had a look, and theres no reason I can see of whats stopping it - steering coupling looks fine, swaybar isnt tensioned stupidly or anything like that. There is a mark indicating the swaybar has rubbed the sump at some point but at time of sticking my head under there, it wasnt touching.

-Steering effort is inconsistent; some days its noticeably stiffer and or harder. When its working fine the steering is really light and crisp, when it plays up it feels a bit imprecise and its noticeably heavier through the wheel

-Car randomly pulls with camber on the road either side. Could drive the same stretch back to back and itll do it sometimes, it wont others. Feels like it sways a bit at speed in a straight line, sort of like its wandering along the road. At times it even feels like its crabbing from the rear. But if you work the wheel sharply left-right-left-right at say 60kmh it feels perfect - tied down, firm and does exactly what you do through the wheel.

When i first started noticing the wandering and inconsistency i thought maybe it needs an alignment but it has me baffled - doesnt explain why the problem is intermittent, varying steering effort or why it clunks loudly and makes noise. Thought maybe it was mechanical but again that doesnt explain why it comes and goes - a failed bush in the panhard rod for eg would explain some symptoms but not others.

The following in the car are less than 30k old:

-Balljoints upper and lower
-Front bushes upper and lower; replaced with Superpro
-Steering rack ends and tie rod ends
-Steering rack to column coupling
-Swaybar links and bushes front and rear
-Shocks all round
-Tyres [Khumo KU33], not showing any real camber wear although rears show some scrubbing from locker

The only things i didnt change were the rack bushes and rear control arm bushes. Ive got both of these, will be fitting them when the car comes off the road shortly for its 9th rebuild. Ive had it up on stands and couldnt find anything out of place. Seriously contemplating getting someone to do a road worthy check on it just to see if they can isolate anything wrong with the front end.
Another two symptoms i forgot to add yesterday
- there are times when it looks like one wheel has more camber than the other, although tyres are wearing well on the edges
- Sometimes the steering will not center; if you turn the steering, say 5deg, as you would if you were negotiating a lane change or a really really small bend, you can let go of the steering wheel and it will stay turned 5deg. Does this in both directions
Given the newness of all the suspension components, and my inability to find something obviously wrong, i decided to have a poke around at the body and I think ive found the problem. My car has had a hard life; its done somewhere close to if not over 400k and was originally a country car. When I got it, it got treated like most 21yr olds treat their cars; i drove it hard, it got jumped a few times at speed, turbo motor etc. Its also had a locker for roughly the 10yrs ive owned it.
Sometime in its life its been hit really hard in the rear and not fixed correctly, noticeable in that it was shorter on one side [door gap to rear arch was way smaller on LHS]. It would also pull left under brakes and lock the left wheel very easily. Anyway, it took considerable effort because it kept springing back when it was released, but was eventually pulled square after it tore some sheet metal. Fixed that, rebuilt the entire car with new suspension and got it on the road. Premature LH locking was gone, not sure if it was suspension that fixed it or pulling it on the rack [wasnt brakes, because replaced them way before that]. And then i walloped a Maxima in front of me at 60kmh, direct hit to the bumper mount which transferred all the force into the inner gaurd. Hit was hard enough to push the drivers side shock tower back 25mm.
External
http://www.nick.holdengemini.net/_da...80383df-me.jpg
RH a pillar seam after accident
http://www.nick.holdengemini.net/_da...265653c-me.jpg
Passenger shock tower
http://www.nick.holdengemini.net/_da...1e6cd02-me.jpg
Drivers shock tower
http://www.nick.holdengemini.net/_da...2169628-me.jpg
Inner gaurd
http://www.nick.holdengemini.net/_da...88a4187-me.jpg
That all got fixed, pulled square to +/- 1mm. Car got thrown together in a hurry for my wedding with the intention of rebuilding it aaaaaand 30k and 18months later im still driving it daily. In the meantime its done roughly 4k up the Pacific Hwy, belted through the hunter valley, done the macquarrie pass, done a skidpan day after driving it to and from the even 700km - its even done a track day at wakefield including two big moments where i went off at the fish hook off the curbs at speed etc. Basically, i treat it like shit without intentionally crashing it into things. Its also daily driven through hefty road works [anyone in the north of melb will know how fucked plenty road and cragieburn east road have been the last 2 yrs - it does both daily].
Yesterday I had a better look at the body. There have been signs for some time that something isnt quite right structurally but ive always put it off as me being paranoid.
Seam at base of drivers a pillar/plenum/front gaurd. This was redone at paint time - crack has spread and not chip of paint at base of pillar. The paint chip is recent.
http://www.nick.holdengemini.net/i.p...72406a5-la.jpg
Seam on passenger side
http://www.nick.holdengemini.net/i.p...0cf43d2-la.jpg
These have grown substantially over the last 12mths.
Crack in a pillar? Look up and left from gaurd bolt
http://www.nick.holdengemini.net/i.p...4b845f0-la.jpg
Brace yourselves, this is where it gets ugly.
Drivers side lower control arm mount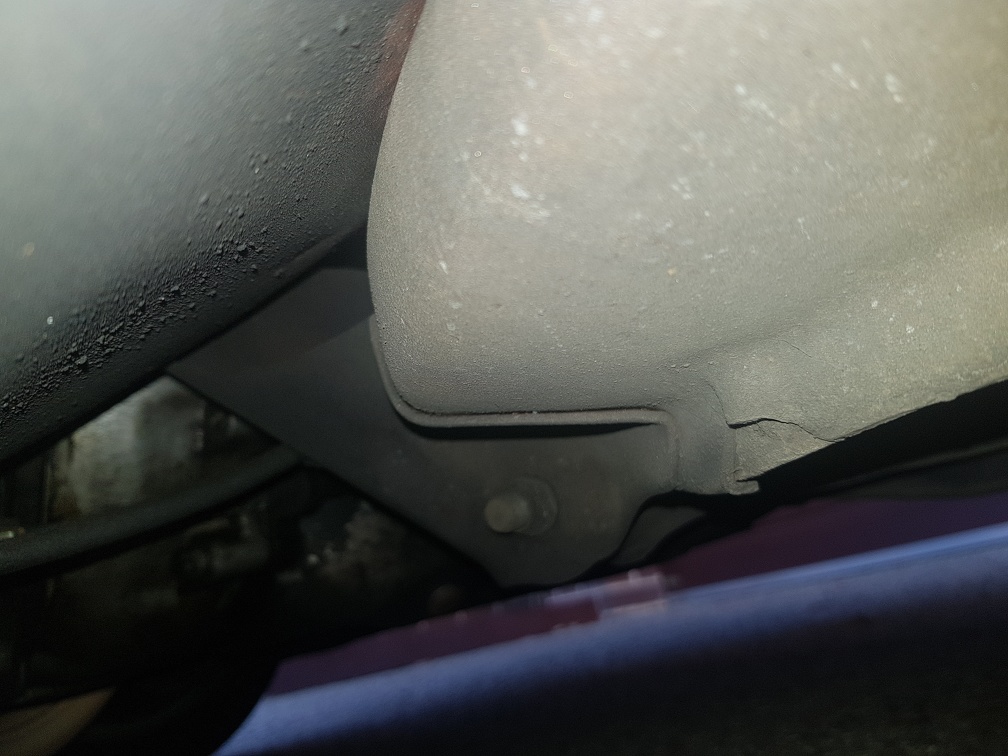 Close up
Passenger side lower control arm mount
Note gap from mount to body. Wifes Gemini for comparisons sake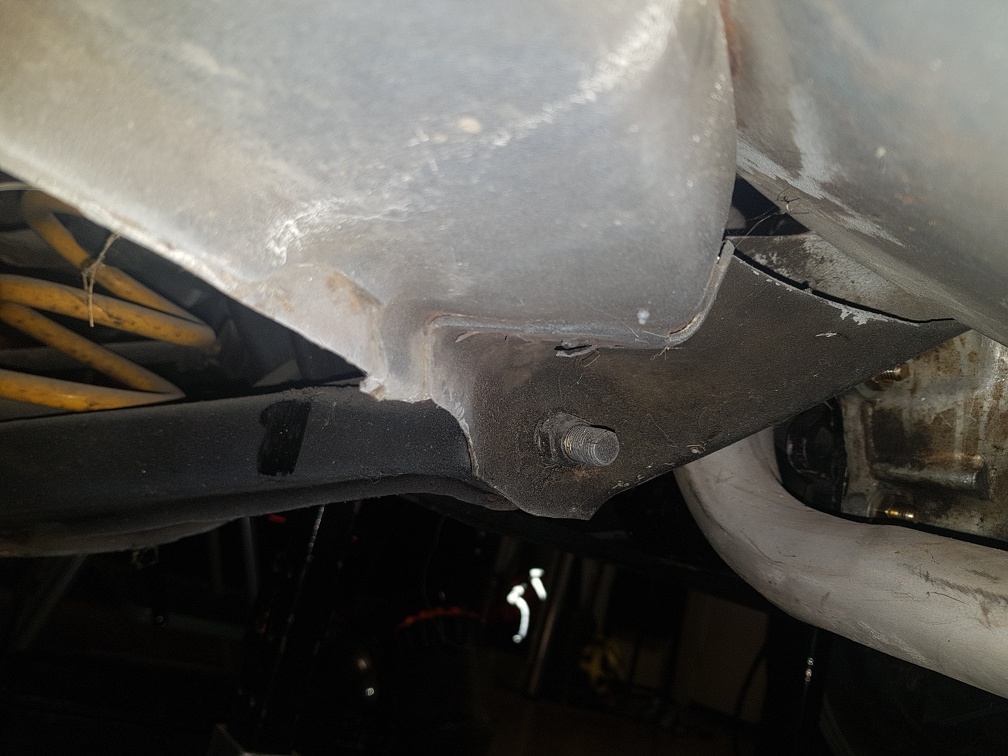 Drivers side chassis rail to inner gaurd. Note rail to inner gaurd seam/join is coming apart
Passenger side chassis rail to inner gaurd. Note rail to inner gaurd seam/join is coming apart. I can fit the metal rule from the square in between the two - and thats roughly 5mm thick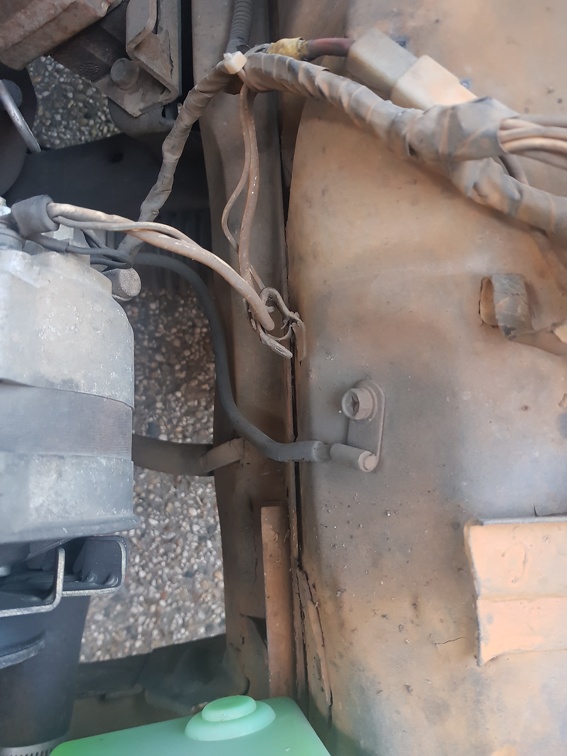 Passenger side chassis rail to inner gaurd of wifes car for comparisons sake
no13bcoupe was kind enough to have a look at his Geminis and all are the same as my wifes car, so its pretty apparent that it isnt a figment of my imagination - the car is coming apart at the seams
. I managed to get my hands on an old preparation manual used to prep Geminis for the NSW Gemini Rally series and a two things caught my eye:
Seam weld the front rails, the rear mounting of the bottom wishbone (on the rails), the front shock absorber turret, the front box member under the radiator and the rear parcel shelf braces
Fit a suspension brace to mount between the lower wishbone rear chassis brackets. This brace passes between sump and gearbox bellhousing. It mounts to the wishbone bolts only
Based off that it would imply that the old girls have an issue in competition use with the exact areas my car has problems with. I should point out that rust
isnt
a factor because the car is rust free - impossible you say, but no, it actually doesnt. Either way, cars clearly fucked.
The question is....how far gone is too far gone? How do you even determine too far gone? Stitch welding the rail to the inner gaurd and doing the same to the lower control arm mounts to body will strengthen whats already there but wont change the stress thats gone through places it shouldnt have - how do you determine if its significantly weakened? Where do I even start?
My thoughts are that getting the car off the ground should in effect close the gap between the control arm mount and body because unloading the weight off the wheels should stop the arm levering on the mounts, and or driving one wheel up a gutter for eg should exagerate the gap by putting load THROUGH the mount - thoughts?
The obvious check is to measure the car diagonally from RHR control arm mount to LHF control arm mount and LHR to RHF and see how close measurements are - is there a possibility the car is springing back to post-crash damage as time has gone on, and driving has taken its toll by pounding on areas which were weakened in the crash?
Is there somewhere it can be taken [ie someone that preps rally cars for eg] that can have a poke around and determine if its weakened or if repairing as outlined in the comp manual will return rigidity?
My head hurts.
N-